Effort at City ill-fitting of Swans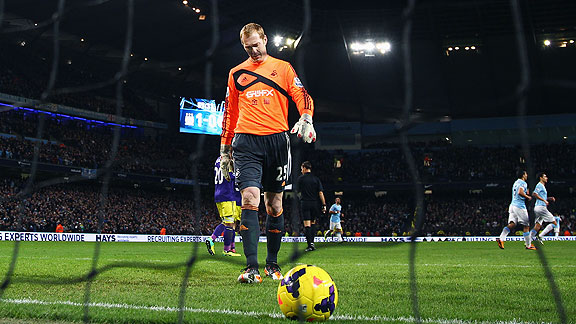 Clive Brunskill/Getty ImagesSwansea goalkeeper Gerhard Tremmel has to fish the ball out of his own net three times at the Etihad on Sunday.
There is an art to winning. Manchester City have finely honed that art. It was there in black and white, in the 3-0 scoreline. Those who watched the game will have seen it in the excellent performance and goals of Sunday's man of the match, Samir Nasri. In the narrative of the Premier League, Manchester City satisfied expectation. Few will be surprised by the scoreline, and fewer still will remember that for a blown penalty call and a missed sitter, it might have all been so different.

- Report: Manchester City 3-0 Swansea

There is an art to losing, too. In any act of capitulation there is a measure of either dignity or disgrace. The way the balance of power is stacked in British football's top flight, it would have been naive for Swansea to have expected a result on Sunday. However, knowing how to lose without embarrassing yourself is a useful tool in negotiating the ebb and flow of public approval. Losing well is still an exercise in positive PR, not to mention self-confidence.

If the way Swansea fought back after conceding an early set-piece was brave, characteristic of the heart on display in recent performances, then their collapse following City's second was anything but. Swansea had played well to that point -- created chances, looked useful, actually had more of the ball. As soon as Nasri made it two, it was as if the entire Swansea side -- with the noted exception of Jonjo Shelvey -- simultaneously decided the game was lost, and couldn't be bothered to do anything more than play out the pre-determined script of the comfortable City win.

Swansea haven't convinced in what feels like a long time. Recent improvements have hinted at a timely resurgence of sorts, and a noble defeat to City wouldn't have hurt morale one bit. Quite the opposite; had the game ended at halftime, the Swans could have held their heads high, having come darn close to being the first team to spoil City's 100 percent home record.

Instead, Swansea tarnished a first hour's worth of strong play with a final half-hour's worth of limp, indifferent shoe-gazing, which served only to glorify City's already celebrated attack at the expense of the Swans' dwindling reputation. When was the last time you heard anyone talk passionately about Swansea's 'slick football'? The last affectionately overblown Barcelona comparison? The plucky underdog du jour is now rather the Saints, not the Swans. And who can blame the fickle public's betrayal given displays like that gutless last thirty minutes? Underdogs still, but plucky? Not so much.

If all this seems a trifle harsh, and it is harsh, it is because Swansea clearly demonstrated their capability over the first hour. What if Jonathan de Guzman had converted that late first half chance he so skilfully created, before so extravagantly wasting? Or if that penalty call -- for Martin Demichelis's pull on Pablo Hernandez -- had been given? After recent events, I'm almost as tired of complaining about terrible refereeing decisions as the Swans are of being on the receiving end of them, and coming in a 3-0 defeat, most people will write it off as academic. In truth, however, that penalty -- were it given and scored -- would have levelled the game with Swansea looking comfortable and confident.

For the sake of a 90 minute effort, rather than 60, the players might at least have gone home feeling good about losing. That is possible. Losing well to one of the best can trump an easy victory over one of the worst in the self-esteem stakes, although I'm not sure Swansea are confident they can do either right now. Perhaps the players already have half a mind on December's taxing schedule, and, not seeing a way back from 2-0 down away to Man City, simply turned off the cooker to save some gas.

That would be understandable, but not especially helpful. Belief and harmony are always important, and the Christmas fixture list is nothing a good dose of hwyl couldn't get the Swans through, but that's something apparently only available in instalments right now. If the Swans are deliberately picking their fights, then we'll know over the next four games, where matches against Newcastle, Hull, St Gallen and Norwich have to be circled for points.

Fulham's plight shows what can happen when a decent middleweight team stop making an effort. Ninety minutes worth shouldn't be too much to ask of anyone, regardless of opposition or circumstance. If nothing else, making an effort means that even if you still lose the game, you don't lose your self-respect, or that of your peers. It's all important; the Swans' unlikely new status as slow-starting, out-of-sync strugglers is ill-fitting for a talented side capable of so much more. Swansea, please try harder.