Swansea suffer another official injustice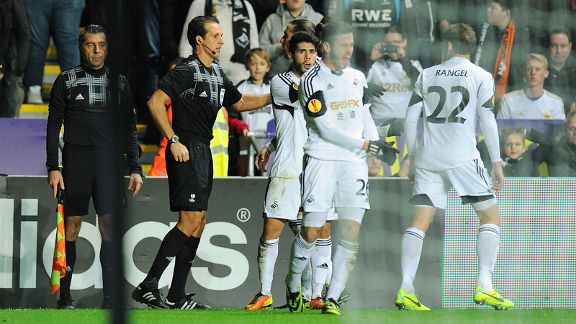 Stu Forster/Getty ImagesReferee Luca Banti (2nd left) waves Swansea players away from his assistant after a goal was disallowed in Thursday's Europa League loss to Valencia.
Thursday night should have been a night to remember. Alvaro Vasquez's goal, scored minutes after the Swansea sub replaced an injured Wilfried Bony, was wrongly disallowed for offside. Had it stood, the goal would have brought Swansea level at 1-1, with the Welsh side needing only a draw to progress from their Europa League group. Instead, Valencia hung on for a 1-0 victory, leaving Swansea's Europa League fate in the balance.

For the second time in three matches, a poor decision has cost Swansea a result. And it's not just Swansea -- in the last couple of weeks in the Premier League alone, we've also seen the Chelsea-West Brom penalty controversy, the Kevin Mirallas-vs.-Luis Suarez yellow, and Sunderland's Wes Brown dismissed for a tackle that should have drawn only applause, not a card of any description -- save for one saying 'Congratulations On Making A Great Tackle', though I'm not sure I've seen that one in the newsagents.

There's a nagging feeling, moving ever faster from suspicion to hard fact, that the game is passing its officials by. Perhaps historically, the notion of a single man being able to correctly judge the behaviour of 22 players competing over 75,000 square feet of playing surface used to stand up. Back in the days before professionalism, before monetisation, when football was still a gentleman's game, and perhaps less was at stake. João Pereira's match-long play-acting and 'gamesmanship' Thursday night is evidence enough that those days are long past.

The introduction of goal-line technology has been granted a welcome if laughably belated introduction to football, but it is still too little. While television audiences are able to see without doubt, in the time it took Diego Alves to dig the ball out of the back of his net, that Vasquez's goal ought to have stood, then it is fair to say football is not doing enough. Compulsory automatic video review of every goal scored would take virtually no effort to implement, and would not delay the game, so why not do it?

There aren't many reasons I can think of for the continued preservation of football's demonstrably inefficient refereeing system, but one does spring to mind. Let's just say it seems somehow appropriate that this week has seen another match-fixing scandal unearthed, the news neatly following two weeks of the worst officiating in recent memory.

The argument has moved far beyond whether or not a referee's job is hard, the reasoning begrudgingly rolled out by every football manager whose side have found themselves on the wrong end of a bad call. The facts suggest that referees aren't fit for purpose any more -- it's not about whether they are good or bad at their job, it's that their job is nearly impossible to do. The game moves faster, is played by better athletes, and for higher stakes than ever before. So much else in football has been allowed to evolve, but it's officiating sits incumbent, unapologetic, and a little too often unjust.

To add insult to injury, Vasquez picked up a yellow card for protesting his disallowed goal. Wouldn't it be nice if that card was rescinded, because it turns out Alvaro actually had a right to be upset? The lack of accountability attached to football's officials is an insult to everyone involved in the game. Following a bad decision, there is almost never an explanation, an apology, or even an acknowledgement.

Imagine you had a few friends over for dinner, and one broke a vase, without apologising for it, without offering to make reparations, and everyone saw what happened, and then they went and booked you for being annoyed with them. OK, the analogy doesn't quite hold up, but you see the point.

In any other walk of life, that kind of willful ignorance would not be tolerated, so why does the world's most popular professional sport allow it?

Swansea deserved more out of Thursday night's game. The Swans played well, created chances, and continued their recent recovery from an ill spell of form. Bony's injury will be a blow, especially since the Ivorian had seemingly just hit his stride. On the plus side, Vasquez looked very useful for the first time in his Swansea career -- perhaps he has adjusted to life in South Wales -- and it will be interesting to see more of him over the next few weeks as he covers for Bony.

Manchester City are next, but at this point, the Swans will just be hoping for a fair crack of the whip, a straight game without controversy or interference from one of football's downtrodden, under-appreciated and ultimately over-matched officials. How big of a mistake needs to be made before things are forced to change for the better?