Swans raising their game in Michu's absence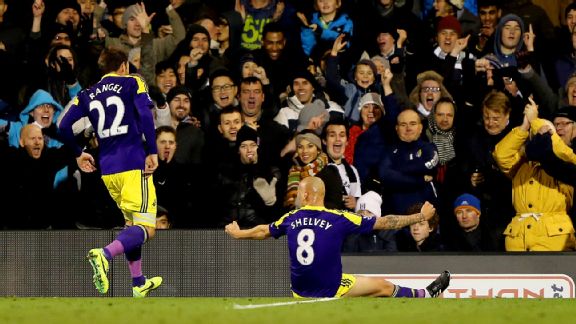 Ian Walton/Getty ImagesJonjo Shelvey's 80th minute goal earned Swansea all three points at Fulham on Saturday.
It's not often a game against a struggling middle-weight side is described as a 'must win', but such was the case as Swansea faced Fulham on Saturday. With Valencia and Manchester City next on the schedule, the Swans didn't want to waste an opportunity to taste victory, or spurn a chance to show some consistency following a solid performance in the contentious 3-3 draw versus Stoke.

In beating Fulham 2-1, Swansea will be delighted to have proven they can hold onto a slim lead after recently displaying a tendency to cough up late goals (Stoke and twice against Kuban Krasnodar). What might be more encouraging is the fact the Swans are playing well and getting results without Michu.

- Report: Fulham 1-2 Swansea

There's no doubting Michu's importance to this side, and when a smaller club like Swansea finds a game-breaking player, there is always the danger that the player and the team begin to rise and fall as one. When that happens, the opposing game plan is obvious; beat the player, beat the team.

Michu's enforced absence through injury has provided game time to some of Swansea's lesser known players, most notably Alejandro Pozuelo. Pozuelo, a young and vastly talented attacking midfielder, was brought in from Betis over the summer for less than half a million pounds. Although he has already featured on the wing this season, he has lately been tasked with covering Michu's role in the hole, his natural position.

Pozuelo played well against Stoke; against Fulham, he was even better. The small Spaniard passed with 91 percent accuracy, made a team-leading five key passes and provided the 'assist' for Aaron Hughes own goal. Very much playing the role of creator, Pozuelo only took one shot. Striker Wilfried Bony fired off six, with wingers Roland Lamah and Nathan Dyer combining for seven more.

These might seem like trivial details, but the numbers suggest Swansea's game plan was not only adhered to but was also effective -- Pozuelo as trequartista, Bony as lone striker, the wingers as auxiliary attacking support. Pozuleo's game is fundamentally different from Michu's, but no less valuable in Michael Laudrup's accommodating system.

There is a sense that with Michu out of action, the rest of the players are rising collectively to compensate for the loss. It is as though Laudrup, deprived of his talisman, has trusted the rest of his children to babysit themselves. And they've done just that. Having been stripped of a central figure around which to operate, the Swans are suddenly less predictable, more of a collective.

When Michu does return from injury, he ought to benefit from a supporting cast who are now much more than that, having become key players in their own right. In an unexpected way, Michu's injury -- an event which had the potential to derail the Swans at a critical point of their season -- has actually helped to bring balance to the squad.

Bony is scoring. When he's not finding the net he's still getting shots away, and I suspect is beginning to make cameo appearances in defenders' nightmares. Pozuelo has the potential to be both a creative force at this level, and a vital piece of the Swans puzzle. Jonjo Shelvey is growing in confidence and is making fewer mistakes, and Lamah, still raw and a little trigger happy in the face of better options, is at least showing real desire to buy himself a permanent ticket to South Wales.

Swansea are getting results without Michu or forgotten man Pablo Hernandez, both key players. When they return next month, Laudrup will be left with one of football management's nicest dilemmas -- who to play, when every player is playing well.