Despite bumps, Laudrup's project is on course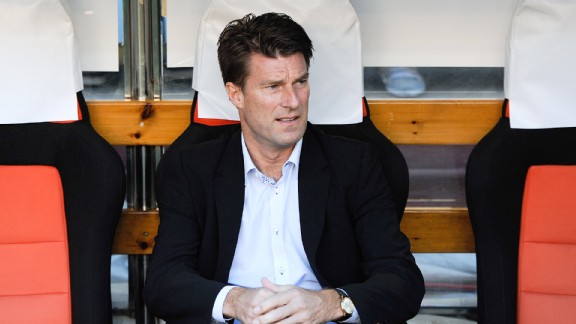 David Ramos/Getty ImagesMichael Laudrup has boosted his stock with his record at Swansea.
You have to credit Michael Laudrup for trying. When he came to Swansea, he joined a small club punching happily and convincingly above its weight. Brendan Rodgers had made sure that his evolution of the Swans system made the side competitive at the top level, but weaknesses were there, rooted in one-dimensionality and a lack of cutting edge.

When Laudrup succeeded Rodgers, Swansea were still favourites with the bookmakers to go down. The Dane's near-instant success in not only bettering Rodgers's 11th place finish by two, but in winning the club's first major silverware along the way, has made him a Swansea legend regardless of what happens from here on.

And yet questions continue to be asked of Swansea's performance this season. Laudrup's side have already been branded as underachievers. The Europa League is taking its toll, they say. Which isn't true. They've had a slow start, they say. Which also isn't really true.

In reality, anything short of matching Southampton's incredible early form this season would likely have precipitated the same disappointment. People were even talking top six before this season. When has that ever been realistic for a side which isn't actually a 'big six' club? (Ironically, it's still possible).

The table says the Swans are doing well enough, only a point shy from last season's total at this stage of the season, having faced four big six sides already. Last time round, the Swans had faced just two. Progression from the group stage of the Europa League is within reach, which compensates the club's early exit from the league cup.

So why the dissatisfaction? Because there have been problems. Goals surrendered to Southampton, Stoke and Liverpool through cringe-inducing defensive errors. A near team-wide failure to show up for the second half of the South Wales derby. The late breakdowns against Kuban Krasnodar, and even against Stoke. It might have been a ridiculous penalty decision, but Stoke should never have been allowed to push the play into the Swans third that late in the game in the first place.

The good news is that this is not a side which has been 'found out', nor is it a side short on ideas. Swansea aren't a side going backwards or even one treading water. It might stretch credibility to suggest the Swans' problems this season have been nothing more than 'teething troubles', especially when the manager is no longer new, and the system is ingrained, but this is the case. Swansea are always changing, there are always new teeth to cut. This is why Laudrup deserves credit, because he is constantly pushing his team to reach new plateaus.

Laudrup knew he'd be competing in Europe this season, still secretly a primary target for the Swans boss, who would probably rather see a 17th-place Premier League finish and a Europa League victory than a seventh-place finish and no Europa crown. In preparation for the extra commitments, this season has seen a wholesale changing of the guard, or at least the subs' bench.

Over the summer, Laudrup switched fringe deadwood for new blood -- decent new blood from different teams, different systems, different countries, and it all takes time to gel. That's to say nothing of the usual injuries which have conspired to complicate the process.

It might be easy for Swansea to sit back and consolidate by way of standing still, the way Stoke did, for example, starting five or six years ago. Stand still, nail down an identity, surprise no one, and tick over mid-table. That's a fine aspiration for the short term, but as Tony Pulis found out, football is constantly changing and the best sides move with the game, not stand against it.

Keeping Swansea competitive while pushing the club to achieve more, to attract better players, to broaden their tactical palette and to earn more money (because Swansea are one of the few clubs who really do earn -- 15 million pounds at the last round-up) -- that is a trick comparable to the old joke about the difference between a mechanic and a heart surgeon; tinkering with the engine whilst it's running is so much harder to do.

Laudrup's ambition is as evident in every mis-hit ball, defensive gaffe and squandered result as it is in every picture perfect pass or impressive victory. His side is constantly evolving, making mistakes as they learn at an accelerated rate. As long as the cost of progress is not too high, as long as Laudrup's Swans do not try to grab for too much, too soon, and fall too far as a result, then Swansea will continue to surprise people for the right reasons.