Solving the Jonathan de Guzman riddle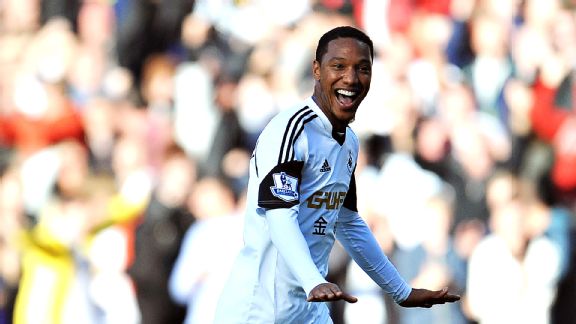 Tom Dulat/Getty ImagesFor many Swansea fans, the jury is still out on Jonathan de Guzman.
Jonathan de Guzman was once sold for seven million pounds. He featured for his national team -- one of the world's best -- this weekend. The Dutch midfielder is nearly halfway through his second season-long loan at Swansea, a clear favourite of manager Michael Laudrup, who brought de Guzman to Wales after the pair worked together at Mallorca.

- Report: Bony still 'adjusting' to Prem

At the end of last season, there was talk of Swansea purchasing the player outright from his parent club, Villarreal. The asking price would probably start near that seven million pound mark, the price Villarreal paid Mallorca for the player. The rumours unsettled the majority of the Swans fanbase, who were loathe to see the club spend that kind of money on a player who had yet to fully convince.

Even today, despite Laudrup's faith, de Guzman still hasn't won over the fans. Laudrup's unbending belief in de Guzman suggests the player must be doing something right. Are Swans fans being unfair on the midfielder?

De Guzman's critics, a group to which I have occasionally belonged, have complained of a lack of physical presence, a soft touch in the tackle. They've grown frustrated at the midfielder's lack of urgency on the field, his willingness to let someone else do the dirty work while he canters back into his own half like a man strolling home with the Sunday newspaper. De Guzman is, so they say, a flat track bully. A fairweather player. Some would prefer to see Ki Sung-Yueng recalled from his Wearside exile to take de Guzman's place.

Statistics can only prove so much, but a few hard facts (or figures) might be a good place to start. Swansea have played a total of 15 Premier and Europa League matches so far, of which de Guzman has started nine, although according to WhoScored.com, his better performances have come against weaker sides (9.04 v Sunderland, 7.86 v St. Gallen) rather than stronger (6.29 v Spurs, 6.46 v Arsenal). That surely stands to reason, though?

Interestingly, the Swans' record in games which de Guzman has started is more or less the same as those in which he did not start. With de Guzman starting, Swansea have three wins, three draws and three losses; without, Swansea have two wins, two draws and two losses.

A look at the Swans' goal difference over those two groups of games reveals something unexpected -- despite De Guzman's supposed lack of steel, Swansea's defence is actually a lot better when de Guzman starts.

Without de Guzman, Swansea score 1.3 goals per game on average, and concede 1.5, for a difference of -0.2 per game. When de Guzman starts, the attack stays more or less the same -- a small improvement to 1.4 goals per game, but the defence is vastly improved, with goals conceded dropping to almost half -- 0.8 overall -- for a difference of 0.6 in the Swans' favour. What's especially strange about this is that other statistics suggest that the critics are right -- de Guzman actually isn't a very good defensive player.

Here's a graph using figures derived from Squawka.com comparing de Guzman's defensive contribution with that of Jose Canas and Jonjo Shelvey. I've left Leon Britton out because every Swans fan knows Britton has no peers. When Canas plays, it is usually in place of Britton, so his figures are there to provide contrast. The most direct comparison is with Shelvey, since Shelvey and de Guzman are deployed in more or less the same way by Laudrup:




Clearly, de Guzman is the defensive lightweight of the bunch, with no blocks and very few clearances. I've included this chart precisely because it is the one area where de Guzman actually does come up short. In all other areas, he more than holds his own. Here's a quick overview charting percentage of success in key areas. I've even included Ki's stats from Sunderland for comparison:




It might be fair to say that what de Guzman lacks defensively, he makes up for in other areas -- at least statistically. What the stats don't show are things like de Guzman giving up on Stephen Ireland against Stoke last Sunday, which led to a goal, but isn't classified as a defensive error. Shelvey might make mistakes of his own, but his work ethic is fantastic.

The following maps show the 'action areas' in that match for de Guzman and Shelvey, playing the same role either side of a substitution. First de Guzman:




And now Shelvey:




It's clear that de Guzman is an attack-minded player, which goes some way to explaining his defensive shortcomings. Whether he's the kind of player the Swans need in a deep midfield position is debatable, but those goal difference figures alone suggest that maybe Swansea's fans have been hard on de Guzman after all.

As for Ki's future, that's a topic for another time...