Phantom penalty spoils promising Swans' display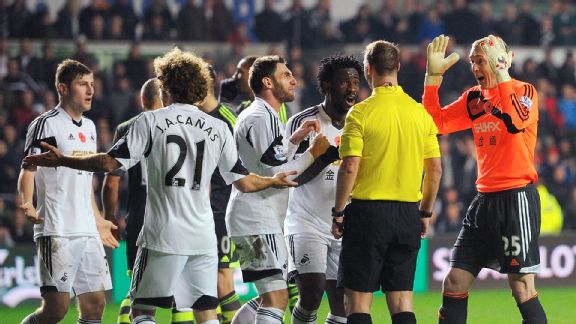 Stu Forster/Getty ImagesSwansea goalkeeper Gerhard Tremmel and his teammates react after referee Robert Madley gave Stoke a last-minute penalty kick following a controversial hand-ball ruling.
Let's get one thing clear straight away. Everyone knows it was never a penalty. I don't want to focus on that incident any more than necessary, because it was both an egregious piece of officiating and a moment so hard to ignore that it ultimately overshadowed what had been Swansea's best football of the season so far.

Suffice it to say that a referee is meant to be absolutely certain beyond doubt about a penalty incident; the book says that if there's any doubt, there's to be no whistle. Multiple television replays even struggled to reveal what rookie referee Robert Madley thought he saw, and as Michael Laudrup pointed out, nobody else in the entire stadium (save perhaps for a desperate Asmir Begovic) saw it, either. The fact the moment came in the last of five gratuitous minutes of added time just compounded Madley's inexcusable folly.

-Late agony for Swans
-Swansea still unhappy about call

That the Stoke equalizer came from a non-penalty against a club that has famously only been granted one spot kick themselves in well over 50 league games (Craig Pawson, Swansea legend) is one irony too many for numb Swansea fans. If Madley ever has an interest in tracing his family tree, I'm guessing Henry IV would be a good place to start.

The philosophical attitude towards bad calls suggests that over time, these things 'balance out'. Well, I can remember Roland Lamah having a legitimate goal disallowed against West Brom last season in the dying moments of a 2-1 defeat which should have been a 2-2 draw. I'll certainly remember Sunday's farce, but I can't remember a single time when it was Swansea who were on the beneficial end of such a game-altering decision. Balance out? I'd like to see it. By my count, FA referees owe Swansea three points and rising in the Premier League.

It truly is a shame that Madley had to unfairly stomp out what had been such a memorable Swansea comeback. After Stoke had scored two early goals from their first two shots, another defeat looked likely. At that point, Laudrup and the Swans were secretly at crisis point. A loss would have been one poor result too many, the turning point where tactics, player acquisitions and performances are ruthlessly interrogated in search of answers.

Instead, Swansea showed a team-wide determination not seen in a long time. The Swans swarmed over the Stoke third relentlessly for pretty much the entire match, and the second half in particular. Laudrup's new-look line-up with Lamah, Alejandro Pozuelo and Wayne Routledge as the trio behind the striker was inspired; even more so his decision to introduce Nathan Dyer for Lamah in the 55th minute. And then there was Wilfried Bony.

For the first time in his Swans career, the Ivorian looked the total package on Sunday; not just strong, but involved, purposeful and, crucially, prolific. The little details which justify Bony's pricetag were all present: the venom with which he attacked Jonathan de Guzman's cross for his first goal; the quick step he took to meet Jonjo Shelvey's smart pull-back for his second; the fact he made Stoke's monster backline look like smaller men.

Almost as remarkable as the effort Swansea made to fight back -- previous to Sunday, the Swans had lost every game in which they'd conceded first this season -- was the fact they did it without Michu. The Swans' centrepiece limped out of the South Wales derby with a sprained ankle, and is expected to miss a month. If anyone ever thought Swansea were too reliant on Michu -- and at times it's looked as though the other players might even feel that way -- they were wrong.

That's not to downplay Michu's ability, but it should be a great source of strength for the Swansea players that apparently no one player is of disproportionate value to the system. Sunday was Swansea's first league game of the season without Michu, and to say his team-mates fought like cornered alley cats in his absence is putting it mildly. This was a performance of real steel, of desire and of stubborn insistence to not be beaten.

Madley's madness was hard enough for Swansea to deal with, so I won't dwell on pointing out how Chico's delicate toe-poke was never going to be enough to stop Jonathan Walters in top gear, or to question why exactly de Guzman gave up chasing Stephen Ireland. The needless controversy aside, Sunday was all about rebirth. A new-look Swansea, with new-found determination and a record signing sprung to life. There's three points Bobby Madley can't take away.