Swans too kind in defence in Kuban draw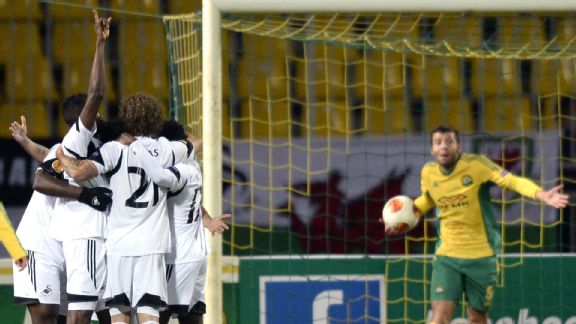 Alexander Nemenov/Getty ImagesSwansea celebrated early, but a last-gasp Kuban equaliser would end up ruining their knockout stage party.
The big question in Swansea right now isn't so much 'what the heck happened?' as 'who is this guy Balde? (and can we sign him?)'. History repeated in Thursday night's 1-1 draw with Kuban, as the opportunity fell again for Senegalese super-sub Ibrahima Balde to change the course of the game in the final minutes.

- Report: Swans denied at the end again

Last time, Balde won a penalty which was converted by Djibril Cisse. This time, he scored the goal himself with a deftness of touch that might have had Michael Laudrup applauding had he not been consumed with frustration at watching his side throw away another result.

Laudrup at least has some right to be frustrated. His Swans side were the better of the two in an open first half, and despite Swansea's kindness in allowing Kuban as many through balls as they could muster, it was the Swans who looked most likely to score. Wilfried Bony got the opening goal early on, and the table was set for a comfortable victory.

Unable to add to their lead before the half, my expectation was that the Swans would pick up where they left off following the interval, press for (and score) the apparently all-important insurance goal, and leave Russia with qualification from the group stage assured. If Laudrup felt the same way, you'd never have known it by the Swans second half performance.

Instead of more assured, attacking football, the Swans aped a defensive stance in the mistaken belief that standing off an opponent that has nothing to lose and is playing in front of a clamorous home crowd in their first European conquest in club history would somehow be a good idea. There is a difference between playing a committed defensive game predicated on shape and discipline, and just putting a few more men behind the ball in the hope that sheer force of numbers will somehow work in your favour.

On Thursday night's evidence, the Swans are not a side designed to sit back and contain. Nor should they have to. This is a side full of attacking talent. Alejandro Pozuelo is a creative sparkplug when played in the hole, and it looks like he'll be able to ease the absence of Michu over the next month. Roland Lamah showed that while he doesn't yet match Wayne Routledge's defensive contribution (that's a sentence nobody thought they'd hear a few years ago), he can certainly push for a start at left wing based on his attacking talents.

Bony was once again physically immense with an end product to show for it, and even Jonathan de Guzman looked sharp and effective in flashes after a no-show against Cardiff. So why the defensive hunkering? To sit back and attempt to defend your own third might be conventional wisdom, but it doesn't make logical sense. The point of defending is to keep danger from your doorstep (and specifically your goal). The best way to do that is to push the danger 50 yards or more back up the field, away from your doorstep, not to invite the opposition to play football within comfortable shooting distance.

This is especially the case when dealing with an opponent like Kuban, who played well but don't have enough talent to concentrate on both ends of the field at the same time. The easiest way to defend a side like that is to play back at them. After all, if they're almost overwhelmed by your own attack, how can they hope to manufacture a decent attack of their own? 'Ah, but what about the counter attack?' comes the conventional riposte. What about it? It clearly wasn't Cisse's night (he missed a sitter) and with two centre backs and Jose Canas behind the halfway line, Swansea should have been confident of containing a counter.

The attempt to sit on a solitary goal's lead against an opponent who have already proved that might not be enough says something about Laudrup's confidence in his side. The win was clearly important -- it would have guaranteed Swansea's passage to the knockout stages -- so I can understand the Dane's caution. To have only lost the lead in the last minute says Laudrup's faith was almost justified.

A greater leap of faith might have been to trust in his side to score another goal or two before that point. Ironically, given the way Laudrup has shaped the Swans, his side are actually more capable of scoring than shutting up shop, so perhaps it wouldn't have been such a great leap of faith, after all. The old adage 'no guts, no glory' springs to mind. The Swans will have to keep working to earn that knockout berth.