Managing Michu: Get behind Bony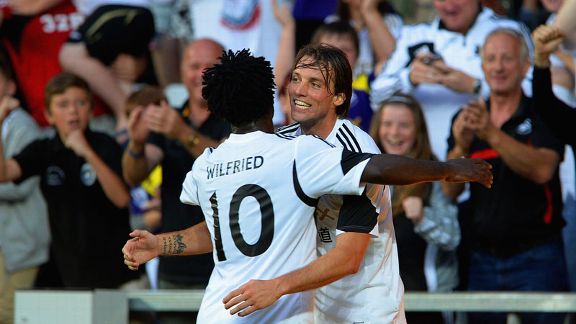 PA PhotosMichu is at his best if Bony is played ahead of him.
When Swansea lost the South Wales derby to Cardiff, they didn't just lose the game -- they also lost Michu to a sprained ankle. The attacking midfielder will miss the next two games after another fruitless start at striker, and it remains to be seen how well the Swans fare without him.

Meanwhile, Swansea boss Michael Laudrup has admitted that record signing Wilfried Bony has been put on a special training program to "help get the best out of him," citing Bony's lack of preseason training with the Swans and the faster tempo of the Premier League as obstacles hindering the Ivorian's transition from the Dutch topflight.

It seems to me that the best way to acclimate a player to a new team and a new league would be to play him, but then, I'm not a professional football coach. Besides, it's not like he's been terrible in his appearances so far. In fact, one significant knock-on effect when Bony starts is the massive improvement in Michu's performance. The twosome might not have completely clicked yet, but Bony's sheer presence on the field creates enough space for Michu to operate in his favoured position to full effect.

I looked at the numbers to see whether my hunch was right, and what I found couldn't be more telling. In short, when Michu plays in the hole behind Bony, Swansea win. And when Michu plays as striker without Bony, Swansea lose. Yes, it's almost as simple as that.

Here's an infographic I worked up to illustrate my point:




The data I used were taken from WhoScored.com, a football statistics site that rates each player for each performance based on the usual categories (passes, shots, tackles and so on). Swansea have played 13 games so far this season, including Europa League group matches and Premier League matches. The numbers don't include Europa League qualifiers or the Capital One Cup game.

Because Michu is the centrepiece of the team and the Swans' most recognisable player -- he's the one name even the most casual football fan can pick out of the Swansea lineup -- it feels reasonable to suggest that the Swans' fortunes rise and fall with the Spaniard.

I split the 13 games Swansea have played so far in half (leaving the odd one as the breakpoint) to form two groups: Michu's six best performances and Michu's six worst performances. The correlation between Michu's performances and the overall Swansea team performance was enormous.

The infographic paints most of the picture, but in case you can't see it, here's an explanation.

Six of the best

Michu's six best games were ones in which he featured as the central attacking midfielder. Of those six games, Swansea won four, drew two and lost none, claiming 14 points from the 18 available.

Swansea scored freely and defended well in those games. The side managed 14 goals in six games (2.3 per game average) and conceded just three (0.5 per game average). Michu himself scored four goals, for a 0.6 per game average, which is a world-class scoring rate for an individual.

In five of those six games, Bony started as striker in front of Michu. Needless to say, the Swans' single point earned against a big-six opponent came in one of those six games -- the 2-2 draw with Liverpool, in which Bony started in front of Michu.

Six of the worst

Michu's six worst performances present the opposite picture. Michu started four as striker and only two as an attacking midfielder. Bony started once. The Swans won precisely none of those six games, drawing once and losing five times to collect a single point from 18 possible.

Swansea managed only two goals in those games, a 0.3 per game team average. For perspective, that's the same figure as Danny Graham's individual average before he was sold for not being good enough. The Swans shipped 10 goals (1.6 per game average). Michu himself scored none.

Interestingly, the one time Bony did start in front of Michu was in the 2-0 defeat to Southampton -- a game the Swans dominated for 70 minutes and lost only because of a slow start and an awful defensive error at the end.

The case for Michu's best position and Bony's contribution couldn't be clearer. Oh, and that single game I used as a breakpoint that didn't feature in the infographic? A 1-0 win for the Swans, with Michu in the hole, behind Bony.

I've said it before, and I'll say it again: Michu is not a striker; Bony is. Put Michu back in the hole, start Bony and watch the Swans win.