Laudrup's over-managing proves costly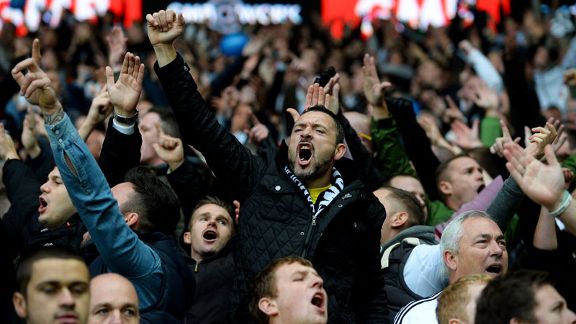 GettyImagesSwansea show their passion during the South Wales derby.
Michael Laudrup hates set pieces. There was an undisguised contempt in the Dane's post-match interview as he recounted Steven Caulker's match-winning goal, scored from a corner, the only strike in Cardiff's 1-0 win on Sunday.

In a dead-ball situation, team formation and shape no longer count. The set-piece is a temporary suspension of the finer tactical elements of the game, a crap-shoot which can undo a hour's worth of chess moves at a stroke.

So it is easy to understand Laudrup's annoyance at losing his first South Wales derby from a set piece, despite Cardiff's obvious set-piece strength. It is less easy to understand Laudrup's tactical approach to what was, derby hysteria aside, a match Swansea were capable of winning.

Laudrup's choice to bench Wilfried Bony, start Michu as striker, and play Jonjo Shelvey in front of the midfield signaled the Swans manager was feeling the pressure. With all due respect to Cardiff, it is as though Laudrup's belief that Sunday's game was going to be difficult became a self-fulfilling prophecy.

I believe Swansea are the superior side. The Premier League represents British football's steepest learning curve, and teams that survive that curve progress at an accelerated rate. You might expect the Swansea side of three years ago, then as new to the top flight as Cardiff are now, to have made an even match on Sunday. This Swansea side has three years of Premier League seasoning on that squad and should have taken Sunday's game in stride, derby or not.

Here's a question to illustrate my point. Will Swansea make similar adjustments when they meet Hull? Like Cardiff, Hull are newly promoted. Both sides play pragmatic, defensive football. In fact, Hull are faring better than Cardiff in the league this year. My guess is no, Swansea will not make those adjustments. Swansea will play Hull the way Swansea play, because it is their best chance at getting a result.

Laudrup's idea on Sunday would have been reasonable against a stronger opponent; play a midfield-focused starting XI, hold the game in neutral, then "go for the game" late. The plan was to introduce Bony for the last half-hour, in place of a midfielder. Instead, Michu sprained an ankle, Bony had to replace the Spaniard directly, and Laudrup's plan was undone, not least because all this happened after the goal.

Why not "go for the game" right from the start? And why play a defensive line-up in the first place? To contain the threat of a side which has scored all of five open-play goals in nine games this season? Under the glare of the occasion, Laudrup over-managed and in so doing undermined his side's strengths.

Cardiff manager Malky MacKay had his boys play the same game they've been playing all season, whether out of confidence or merely a lack of other options. Throw in a solid performance from Gary Medel and consider that no single Swansea player exhibited even half the desire of Craig Bellamy, and the result starts to make sense.

This is what happens when teams play not to lose. They either get lucky, or they lose. Swansea in full swing could have won this match. With a little more confidence and, dare I say, a little less regard for Cardiff, Swansea might have started Michu behind Bony, gone for the throat early and often, and forced Cardiff to contain a top-10 Premier League side.

If Laudrup really wanted to throw MacKay a tactical curveball before kickoff, he might have considered this: bench Michu. If Laudrup had to play Shelvey in the hole, Bony would have been the better option as striker. Truth is, Michu isn't that good at striker. Nor does he enjoy it. Bony, on the other hand, has trained his entire professional career in the position, and I doubt very much if Cardiff's defence are any better than many of the Dutch sides Bony tore apart last season.

Laudrup could then have introduced Michu as the second-half sub, when the Spaniard's desire and energy might have exploited a tiring, rain-sodden Cardiff defence. Bony is not an impact sub, and has a pricetag which says he should be starting. He is the kind of player who needs whole games. He might be quiet for 85 minutes, but if in the other five he finds a goal or two, who's complaining?

The unresolved and disruptive tension in Swansea's front line needs to be settled definitively. Bony needs to start, always, with Michu in behind. New shoes don't get broken in unless you wear them.

At least the fallout from derby games is always good. A win provides confidence, and a loss, as in this case, provides motivation to do a lot better. The fans are very much expecting it.