South Wales derby takes center stage Sunday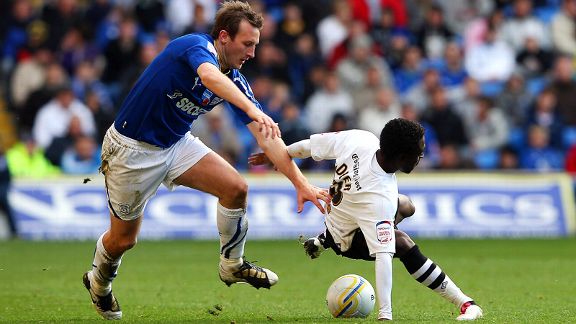 Stu Forster/Getty ImagesNathan Dyer and Swansea have not had the pleasure of facing South Wales rivals Cardiff City since February 2011.
At about half past nine on the evening of April 16th, the Premier League gained a new marquee fixture -- the South Wales derby. That was the day Cardiff City won promotion, following a goalless draw in a late game against Charlton Athletic. The fixture makers have seen fit to make the renewal of the derby this Sunday's solitary 4pm fixture, which means the eyes of the wider football world will be watching.

- Latest Swansea news

Neither side is enjoying a terrific run of form on the field at the moment. Swansea are just about starting to look like Swansea again after it had seemed Southampton were about to steal their seat as the neutral's favourite. After a few weeks of underwhelming practice-pace meandering, the quick, attacking football resurfaced in last Sunday's draw with West Ham; the Swans will be hoping the goals will follow on this week.

Cardiff meanwhile have been holding their own well enough in the top flight, but a point earned against Norwich from less than 40 percent possession and a great display of goalkeeping from David Marshall -- again -- hasn't done much to inspire the Redbirds' faithful. Norwich are the league's joint-worst scorers, but 10 shots on target from a staggering 31 attempts -- a figure which equals a Premier League record -- ought to have won them the game. If Marshall was paid by the save, he'd be a richer man.

Here are a few storylines heading into the derby.

Who are these guys, and why do we hate them again?

Of the 18 Swansea players named in their squad for the last South Wales derby (a 1-0 Cardiff win at The Liberty in February 2011), only four are still with the club (five if you include Jazz Richards, who is on loan). Of the entire current first team, only one player -- Ben Davies -- is local to Swansea (again excepting Richards). For Cardiff, five first team players remain, six including Kevin McNaughton who is on loan. Only Craig Bellamy is local to Cardiff.

The lack of genuine local flavour, or even of long-serving imported players, somewhat undermines the concept of a rivalry. It's not just this rivalry, of course. Look at Gus Poyet, a Uruguayan, celebrating victory for Sunderland after an Italian on loan from Liverpool scored the winner in the Tyne and Wear derby last week.

The present Swansea City squad has more recent history, more 'bad blood' to settle with any number of other Premier League teams. Take Roland Lamah's last minute goal against West Brom which was wrongly ruled out for offside in a game which helped decide the eighth and ninth spots of last year's league table.

Or Norwich's Robert Snodgrass scoring the winner from a free kick after being allowed to illegally spot the ball a full ten yards closer to the Swansea goal. Truthfully, the Cardiff rivalry exists at this point more out of tradition than anything else.

A tale of two cities

There couldn't be more contrast between these two sides. Swansea have the attacking possession-based game, Cardiff play defensively and exploit set-pieces. Off the field, Swansea are locally owned and relatively spend-thrifty, Cardiff have multi-millionaire foreign ownership and haven't been afraid to splash the cash since exchanging their shirt colour for deeper pockets.

Cardiff haven't been afraid to spend what they consider necessary to stay in the top flight. A quick look says close to 20 million pounds on Gary Medel and Steven Caulker alone. For the same money, Swansea bought Chico Flores, Pablo Hernandez, Alejandro Pozuelo, Michel Vorm, Jonjo Shelvey and Michu.

It's worth noting however that Cardiff still haven't spent more on a single player than the 12 million pounds Swansea paid for Wilfried Bony. Bony's had a slow start, and a goal or two against Cardiff would do wonders for his popularity with the fans (just ask the Marvin Emnes appreciation society).

Duelo de los destructores

Depending on squad selection, there's a chance a certain personal rivalry could eclipse the team rivalry on Sunday. Cardiff's Medel and Swansea's Jose Canas -- both defensive midfielders -- have got very little love for one another, dating from their time spent on opposite sides of the Seville derby (Medel with Sevilla, Canas with Betis). Here's a clip of the two men getting to know each other as recently as last year. Medel is sent off, Canas is booked, and Canas wasn't even involved in the initial play.

It would seem unnecessary for Swansea to field two defensive midfielders come Sunday, and Michael Laudrup might elect to start derby veteran Leon Britton instead. However, if Canas does get on to the field the same time as Medel, expect something to happen.

The game has been given prime time billing. We'll have to wait and see if these mostly unfamiliar foes can rekindle the fire, or if the Premier League's newest showcase fizzles out. I'm betting on the former.