Williams, Pablo bright spots in all-wet draw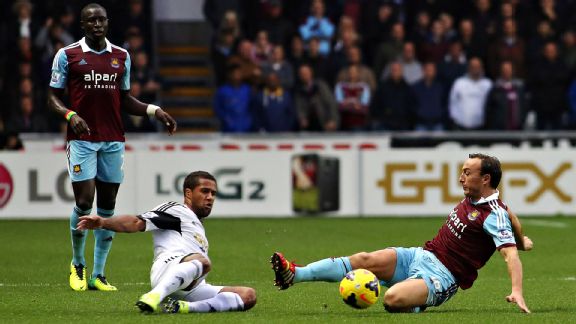 Geoff Caddick/Getty ImagesMark Noble and West Ham were unable to break a scoreless deadlock in Wales against Swansea.
Swansea faced West Ham on Sunday in one of those games full of obvious stylistic contrasts, and if the 0-0 scoreline was frustrating, at least the Swansea performance wasn't. Alvaro Vasquez might have been celebrating Halloween early with the sort of nightmarish performance for which he would have been grateful for a mask to hide behind, but the rest of the Swans were largely back on form.

In fairness to Alvaro, Sunday's relentless rain, a sodden pitch and a brutal Hammers backline were hardly the welcoming party the small Spaniard would have wanted for his first home start. The monolithic presence of Wilfried Bony would doubtless have fared better against Winston Reid's wrecking ball, and the Ivorian might have scored after replacing Alvaro but for the ageless reflexes of alliterative Finn Jussi Jaaskelainen in the West Ham goal.

-Toe Poke video: Big Sam laughs at Flores

Curiously, Swansea's best chances came as a result of set pieces, for so long the side's greatest weakness. Jaaskelainen found himself in the way of a Chico Flores header from one corner, and Bony's chance came following another. Perhaps the Swans have finally started to address their attacking set-piece deficiency, although it's probably asking too much of Swansea to have beaten the aerially superior West Ham off a lone set-piece goal. You can push the concept of irony only so far, after all.

Alvaro's horror show and the Swans' near-miss set pieces aside, Laudrup's men were back to business as usual. Captain Ash Williams returned from injury after what has to be considered a long absence by his standard, and apparently brought with him all the defensive composure Swansea have been in such short supply of recently.

With the Swans' reliable bedrock back in place, the side were able to build from the back, generally contain West Ham's counterattacks, and once again impose the rhythm and tempo which was once so synonymous with Swansea's football at the Liberty. It is easy to take an ever-present player like Williams for granted, but based on the evidence of Swansea with and without their captain, the 10-million-pound price tag the Swans put on Williams over the summer is justified.

In attack, another favourite returned to great effect. Pablo Hernandez started the season on a high, instantly making good on preseason promises to up his game now he'd had a season to acclimate to the Premier League. During his extended injury layoff, an overworked wing combination of Wayne Routledge and Nathan Dyer have occasionally looked short on ideas, while the brilliant Alejandro Pozuelo has been temporarily held back by having to simultaneously learn a new position, a new system and a new language.

In 30 minutes Sunday afternoon, Pablo provided a couple of perfect through-balls and a highlight reel penalty-box dribble -- attacking tools which have been in short supply this season for Swansea. Pablo's confidence and surety on the ball is apparently infectious -- inspired by Pablo's example, Dyer provided his own action replay of Hernandez's dribble before the final whistle. Pablo's two key passes on Sunday were a team-high, joint with Jonathan de Guzman, while the Spaniard's five dribbles beat Dyer's second-best four -- all accomplished in 30 minutes compared with his team-mate's full 90.

If there has been something missing from the Swans this season, you need only look to the contributions of Williams and Hernandez. Williams' calming presence at the back and Pablo's crafty provision at the other end are factors that Swansea might not have realised they'd miss until they were forced to do without either. With both back in the fold, the team performance took a noticeable upswing on Sunday, even if winning scorelines are still proving a little harder to come by. With more to come from both men, that will be the next thing to change.