Disappointing Europa night for unassertive Swans
After a brief respite in last Saturday's 4-0 demolition of Sunderland, the lack of urgency which has too-often characterised Swansea City this season made an unwelcome return. Thursday night's 1-1 Europa League home draw with Kuban Krasnodar was disappointing given the nature of the equalizer, but the result might have been all the Swans deserved.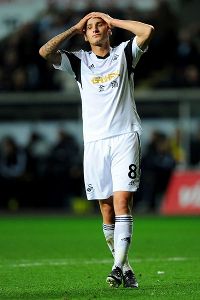 Stu Forster/Getty ImagesJonjo Shelvey's reaction to a missed shot sums up Swansea's disappointing night in their Europa League home draw with Kuban Krasnodar.
Swansea dominated possession on the night with 65 percent to Kuban's 35, but despite the imbalance both sides managed 17 shots and a goal apiece. Superficially at least, the cynics' assertion that it's not how long you keep the ball but rather what you do with it would appear to ring true.

The Swans' build-up play and Kuban's defensive response demanded patience. Yet this game was no pressure cooker, rather a slow-burner with a lukewarm climax. Kuban will feel differently of course, but the Swans frustration at not being able to defend the smallest possible margin of victory might have been avoided altogether.

The patience shown by Swans fans in waiting for Wilfried Bony's dam to burst has so far been matched only by the team's attacking approach on the field. The slow dance-steps of Swansea's peripheral probing, the ball at a crawl, played either to man-marked feet or crossed toward a forward outnumbered three-to-one is proving to be an ongoing source of frustration. Where is the quickness of thought and feet which exemplified Laudrup's pre-Cup-winning Swans of last season?

The frustration is apparently shared by at least one or two Swansea players. Michu wouldn't be Michu without screaming and shouting when the ball doesn't fall right for him, but he has the valuable gift of turning his frustration into goals. Jonjo Shelvey wants to impose himself on every game, and it could be argued that it was Shelvey's late gung-ho run through the centre of the park which led to a tackle, a long ball, and ultimately the game-tying penalty, converted by Djibril Cisse.

The book says Shelvey ought to have played safe, that he shouldn't have been trying to score with his team holding a one-goal lead and barely a minute left on the clock. However, it is difficult for a side to play keep-ball and run into the corners when almost every man is battling the feeling that the game should be beyond reach by now, there ought to have been more goals, there still could be.

Laudrup would certainly have preferred the safe play, but to sit on a lead is to invite attack. Besides, while there is satisfaction in 'seeing a game out' knowing your side has played well, done what was asked, won the game, there was no such satisfaction for Swansea on Thursday night.

Yes, on paper, the Swans had done what was asked, had effectively won the game, but the frustration lingers, an itch under the skin of a squad who know they are not playing their best. Bony has started slowly, Pablo is missed, and Swansea still lean too heavily on Michu.

It sometimes feels that Swansea are too sophisticated for their own good. Having spent the summer swapping weaker players for technical aesthetes, Laudrup now has a squad full of players who ought to be capable of magic, but instead seem afflicted with choice paralysis.

The freedom the Swans players are given to run the game is a tribute to individual skill, but too often we see an errant pass as a result of miscommunication, or the ball at a standstill at a wingers' feet while that player decides what he should do next, watched by team-mates uncertain whether to make a run or stay put.

Old-fashioned football sensibilities are anathema to the Swansea Way, but I think a winger can occasionally afford to be old-fashioned, to use his pace and run at his man, to whip quick balls in or drive into the penalty box. Perhaps if the Swansea players had a stricter remit, were told precisely what to do in a given situation instead of being overwhelmed with options, the side could focus their collective ability, instead of being hamstrung by it.

Football's a simple game, so they say. Thursday's result doesn't matter that much; the Swans are still in the driver's seat in their Europa League group. However, with the South Wales derby around the corner, the Swans will want to get leaner, quicker and meaner.

I'm going to dig out a recording of last season's 3-1 victory against West Brom later, to see what the Swans did differently in their most convincing victory under Laudrup. Perhaps the Swans might do the same to remind themselves how good they can be when they mean it.