With Bardsley's help, Swans finally open up at Liberty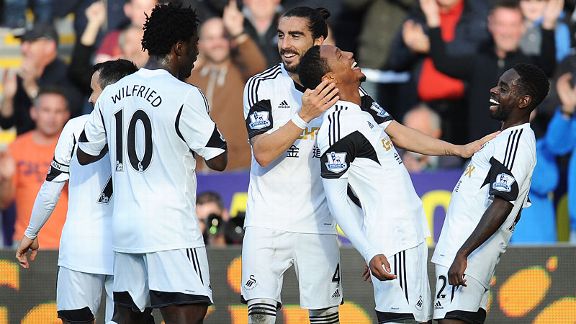 GettyImagesSwansea celebrate after Jonathan de Guzman netted in the rout of Sunderland.
I'm not sure anyone would have guessed that Phil Bardsley's knee would have been the catalyst for the Swans to rediscover their game this season. After Jonathan de Guzman's 57th-minute corner ended up in the back of the net courtesy the Sunderland left back, the floodgates opened and the real Swansea City finally stepped forward on Saturday, winning 4-0.

The Swans have had a relatively slow start to this season. Sure, the schedule has been difficult. Before Saturday, Swansea even had one more point than at this stage last season. However, it's easy to forget that Swansea endured an early losing streak last season. They've avoided that much this season, but have still struggled to convince, despite fielding a superior squad.

In context, Bardsley's own-goal was almost a gift from the football gods, a rare sight in a game full of rarities, a message to say "Come on Swansea, enough of this rubbish, everyone in football wants to see that sharp, sexy side from last season again." And, by the skin of Bardsley's knee, the second-rate dopplegangers who have been sleepwalking through games, mis-hitting passes and leaking goals all season evaporated to be replaced with the Swansea City we know and love.

Past Bardsley's own goal, there were even greater wonders in store. Referee Craig Pawson should probably have a statue erected in his honour outside the Liberty Stadium for being the first referee in over a full season of league play to award Swansea a penalty kick. That's not to suggest there was anything biased or off-colour about the decision -- it was straightforward and met with no protest from the Sunderland players -- but Swansea just don't get penalties, even legitimate ones.

Wilfried Bony showed why he might have earned the nickname 'Daddy Cool' at his former club Vitesse (beyond the obvious band connection) by scoring with a perfect kick; it might not seem like much, but had he missed, the pressure on his shoulders to justify his pricetag would have been increased tenfold. Swansea have bought themselves 12 million pounds worth of composure, at the very least.

Jonathan de Guzman, who looked conspicuously poor throughout the first half, redeemed himself with some style in the second with a piece of pure football poetry, but the game's finale was almost more noteworthy. A Swansea player finally scored from a corner kick. Chico Flores' header might have taken a big-time deflection off a Sunderland defender, but Flores claimed it. It was his first league goal in five years, and his first as a Swan. As I said, a game full of rarities.

In fact, you could say Bardsley's own-goal was also a set-piece strike, as was Bony's penalty, which was won when a Swansea short-corner ended up with Leon Britton being fouled in the box. It's no surprise to me that the day Swansea finally get something from their set-piece play, they go on to win, and win big.

Swansea's first-half performance was as stiff as it was ugly, and the early evidence suggested the side's eight-game home winless streak might yet continue. Whatever Michael Laudrup said at half-time, whatever that fortuitous first goal meant, seems to have made a world of difference to this team.

A convincing 4-0 win at home, set-piece goals, a penalty and a clean sheet. So many of the elements which have not come easily for Swansea so far this season, all coming at once. It is as if Bardsley's knee knocked a blockage in the team's collective windpipe clear, and Swansea are finally breathing freely and easily once again.

Granted, it was a win against the bottom-place side, but a win characterised by so many significant details. This is a game Swansea can use as a platform for the rest of the season. The grating, misfiring machine from the start of the season is finally in gear and running smoothly. Thanks, Phil.