Shoring up needed for Swans ahead of physical fixtures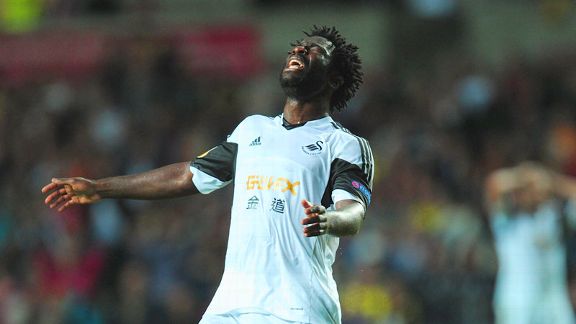 Stu Forster/Getty ImagesSummer signing Wilfried Bony has mostly featured in Europa League matches for Swansea.
Seven games into the season, Swansea sit an underwhelming 15th in the Premier League table with a point-per-game ratio and one or two excuses mostly tied to scheduling. The Swans have faced some tough opponents so far, and a return of just one point from four big six match-ups has been offset by six points from the three other winnable games.

- Report: Laudrup: Chelsea made enquiry

It's hardly time to worry yet, but the fixture list won't be a scapegoat any longer. Swansea's next five games are all winnable, though interestingly three of them are against physical sides (Stoke, West Ham and Cardiff), which might provide a different kind of excuse if Swansea are left wanting. At some point, the Swans will need to stop making excuses and start winning some games.

Swansea's performances so far have seen a strong midfield, typically leading in passing and possession stats, bookended with weaknesses in attack and defence. That probably shouldn't be surprising given the Swans' midfield-focussed summer recruitment policy.

In attack, Swansea notably blew the doors off their bank account with the 12 million pounds singing of Wilfried Bony. Michel Vorm described Bony this week as 'a monster in the dressing room', and while that description might excite some, I'm sure most Swans fans would prefer to see him being a monster on the field instead.

The Swans have been scoring at a fairly pedestrian 1.14 goals-per-game rate so far this season, with Bony only netting once in league play. Michael Laudrup's decision to play the Ivorian relatively sparingly despite his workhorse physique is proving to be a source of frustration for all concerned, except perhaps for Laudrup.

Bony has been let off the leash a lot more in Europa League play, and if the striker's main contribution this season helps the Swans win that competition (not an implausible ambition by any stretch), then will his underwhelming Premier League play and massive price tag have been worth it? My guess is yes, as long as the Swans are still a Premier League team.

In my last blog, I outlined how the Swans' trend for peripheral build-up play this season has done nothing to help their goal tally. Here's a couple of charts courtesy of WhoScored.com which further illustrates the point :




Although the Swans are creating more chances in the penalty area now than they were at the start of the season (where something like 62% of shots were from long distance), they are still allowing opponents to have better quality chances than they're able to create for themselves. The Swans' goal return per game this season has been 1.14, as I pointed out above; the Swans' goals against per game is sitting at 1.57. The correlation between the figures and the charts is easy to understand.

With the Swans attack dominating discussion mostly because of Bony's price tag and Michu's growing reputation, their defence -- fourth worst in the league -- has largely escaped scrutiny. I had concerns that the lack of defensive reinforcements this summer might be a problem. With Ash Williams laid up with a rare injury, the Swans are down to two viable centre backs. Angel Rangel is also ailing, and the decision to sign backup Dwight Tiendalli after, rather than before, pre-season training has forced the fullback to play catch-up during competitive matches.

On paper, despite those injuries, the Swans defence is still strong. In practice, that hasn't been the case. Individual errors have been a problem, perhaps mostly because the Swans defenders are too easily isolated against opposing attackers. The Swans defence does not look like or play often enough as an imposing bank of four, rather a vulnerable bank of two. It is especially so when opponents play on the counter -- Jay Rodriguez's goal for Southampton last week being a perfect example.

If the fullbacks are absent defensively because they are joining the attack, there has to be a (literal) net result. With at least one fullback and a deep midfielder pushing forward, Swansea routinely have six players hunting for goals. And if an attacking unit of six players can only manufacture one goal per game, then something isn't working, especially if that approach also exposes the side's own defence.

As I said earlier, it's hardly time to panic. Swansea are at least treading water. However, the next run of games will see the Swans face at least three clubs for whom Swansea's control of the midfield will mean nothing, since they'll most likely be bypassing that part of the pitch as much as possible.

Maybe the tactical change of complexion will help Swansea achieve a little more balance between all three phases of play, and that might be the ticket to shoring up a leaky defence and improving a misfiring attack.