Technical skill sees Swans through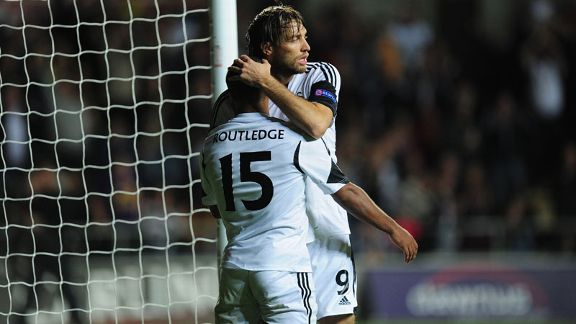 GettyImagesWayne Routledge celebrates his winner with Michu.
St Gallen came to the Liberty stadium with a gameplan designed to unstitch Swansea's composed passing game, and it almost worked. The Swiss side pressed the Swans relentlessly for almost a full 90 minutes, but Swansea endured, with the gap in technical class ultimately the difference in the Swans 1-0 victory.

Swansea have faltered when faced with aggressive opposition before; the likes of Everton and Aston Villa have successfully adopted similar approaches in the past. However, the Swiss side took the template to extremes, their ultra-high-tempo aggression assisted by a dangerously tolerant referee.

St Gallen were allowed to make borderline two-foot challenges all night, while Michu had to sit out nearly nine minutes of the game after a kick to the head had produced enough blood to see the Spaniard go through six shirt changes over the remainder of the match.

When the referee did whistle, it was for a St Gallen penalty which should never have been given. Dwight Tiendalli's arm was high, but the ball struck his thigh first. Goran Karanovic at least seemed to have a guilty conscience, rolling a terrible penalty straight into Gerhard Tremmel's arms.

Whistle-shy referees combined with aggressive, pressing opponents has proven to be a destructive combination for Swansea (see: Anthony Taylor and Everton, 22nd Sept 2012), but Swansea's resilience Thursday night saw the club overcome an old weakness.

The Swans triumph in the face of 'adversity' (i.e. unpunished fouls) was especially impressive given the absence of Ash Williams and Jonjo Shelvey, two men not afraid to fight fire with fire, although Shelvey did make a late cameo appearance from the bench.

Instead, Michael Laudrup fielded a side full of Europa league favourites, who did not allow a lack of steel (Jonathan de Guzman) or a lack of size (take your pick, Michu and Wilfired Bony excepted) to be exploited by St Gallen.

The Swiss side's enthusiasm for aggression did initially disturb Swansea's comparatively relaxed flow, with the result a kind of pinball football, the St Gallen players apparently happy to throw themselves at the ball in the hope a favourable bounce would take it forward.

After acclimatising to the seemingly absent referee and deciding the best answer was to play to St Gallen's pace rather than impose their own, Swansea took control, with the stat sheet showing five players with better than 90% pass completion, despite the eye arguing somewhat to the contrary.

Most impressive of all was the Swans ability to hold a one-goal lead for almost half the game. In recent times past, it would have been easy to imagine St Gallen sneaking a late equalizer. This time, Swansea held their ground, against an opponent playing a perfect counter-strategy.

This was an important victory. Swansea won without playing their best, without being allowed to. Laudrup managed to get the result without having to switch to a plan B -- his Swansea side were able to beat St Gallen by allowing the chaos, and letting their superior technical skill prove the decisive factor.