Identity problem emerging at the Liberty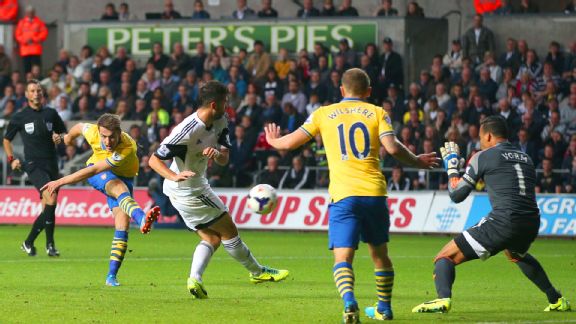 AP PhotoAaron Ramsey's goal gave Arsenal a 2-0 lead Saturday at Swansea.
The first of this season's two 'games for the purist' -- Swansea vs. Arsenal -- ended with a deserved 2-1 victory for the Gunners Saturday at the Liberty. Although Swansea looked good on paper and had plenty of the ball on the field, Saturday night's late game raised more awkward questions for Michael Laudrup's men.

The overriding theme is one of direction -- which direction Swansea are heading in, where the next careful footstep forward should be aimed. Saturday's game was an uncomfortable and frustrating watch. The Swans are attempting to integrate several important new players while playing two games a week. The two and three days in between Premier League and Europa League commitments are hardly giving this squad enough time to rest, much less develop any tactical sophistication.

Laudrup has been right to address the one-dimensionality of Swansea's play under former boss Brendan Rodgers. The most notable of Laudrup's innovations so far has been longer-range passing and overt attacking play from the full-backs. In theory, and sometimes in practice, these concepts have been positive. Ben Davies scored Swansea's goal against Arsenal, for example.

However, Davies was also culpable for not marking Serge Gnabry on Arsenal's first -- because he was in an attacking position, expecting an outlet pass after someone else had broken up Arsenal's attack, which no one did.

The new passing game is another issue entirely. It is sad that that the infamous Swansea triangle of local legend is a rarer sight these days. It's also true that Swansea's short-passing game was in real danger of being negated by aggressive pressing from opponents, which is why Laudrup sought to expand the side's vocabulary.

Jonjo Shelvey, chief among Swansea's new long-range weapons, has almost single-handedly changed the look of the side. This is a now a team that can surprise an opponent with a 40-yard diagonal pass to feet. The problem isn't so much the improved range of passing, but the why and wherefore.

Laudrup is playing a game of deception with opponents this season. It is, at first, frustrating to see the Swans full-backs playing cross after cross into the box. This is not a side known for scoring in the air, but at times -- especially early in games -- you could be forgiven for thinking Swansea had Steven Fletcher at striker.

However, the move is pure tactical deception, designed to stretch the field and keep the defence honest, to open up space for the inverted wingers to maraud through the middle in subsequent attacks.

It's a good gambit in theory, but doesn't always work. The Swans' threat from aerial play is not even convincing enough to be used as a decoy. Davies' crosses are typically over-hit to the back post, where Nathan Dyer isn't going to score from a header, while Angel Rangel habitually drills his too hard and too near the goalmouth. The less said about Dwight Tiendalli's crosses in relief of Rangel Saturday, the better.

Arsenal didn't bite. The Swans were allowed to make early crosses, but completed just one of 20. Later, when the Swans switched to ground attacks through the middle, Arsenal's defence were everywhere, making 19 interceptions. Swansea made 129 successful final-third passes on Saturday, but only six made it into the penalty area. Record signing Wilfried Bony is known for being particularly lethal in the box -- no wonder Swansea are yet to see his best.

All too often Saturday Swansea looked lost, even in possession. Time and again Swansea attacks broke down, either from an Arsenal interception or merely from a lack of inspiration. By contrast, Gnabry was exhilarating in flashes for Arsenal. A player prepared to run at the opposition and force something -- anything -- to happen. Perhaps if the Swans ran more and passed just a little less in the final third, they'd take away the easy interceptions and force an opposing defence into making some rash decisions. Pablo has been a big miss for Swansea these past few games in that regard.

Questions of direction, then -- are this side still at heart a short-passing side? If the Swans can now play long-range passes, are they picking the right moments to do so? More than anything, where are the guts of this side? The contrast in desire between players such as Shelvey and Michu and the rest of the team was never more pronounced than Saturday. If Jonathan de Guzman had half Shelvey's moxie, or if Swansea's wingers could temporarily abandon fastidiousness for sheer dumb hunger, like Gnabry, perhaps the Swans could turn superior passing stats (86 percent vs 78) and equal chances (10 each) into points in the standings.

The games are coming thick and fast. Swansea need to wake up a little bit.