Swansea off target in loss to Birmingham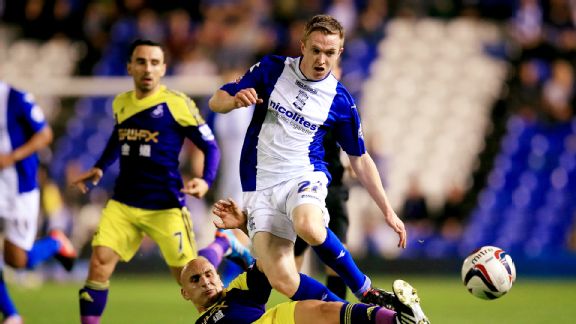 Richard Heathcote/Getty ImagesThere will be no Capital One Cup title repeat for Swansea who were sent packing by Birmingham City.
Having one fewer competition to concentrate on this season is the obvious benefit to Swansea's surprising 3-1 defeat to Championship side Birmingham in the Capital One Cup. Crucially, this was not a pre-meditated bow from the lesser of the squad's four major commitments this season, and the defeat had little to do with the ten changes Michael Laudrup made to his starting XI.

- Report: Birmingham 3-1 Swansea

A key element of Swansea's summer transfer strategy was to introduce flexibility and useful depth to the squad. The record signing of Wilfried Bony aside, none of Laudrup's additions smacked of pinning the team's fortunes on a single star player; Bony's fee was only so high because his former club were bargaining from a position of strength following the striker's head-turning display of scoring last season.

Rather, the Swans brought in starting quality talent across the board, precisely to allow Laudrup to heavily rotate his squad throughout the Swans' four competitions and still field a competitive XI. The side which lined up against Birmingham was more than capable of winning the game, and featured no youth players or prospects.

Laudrup's decision to start Bony over youngster Rory Donnelly proves that the Dane intended for his side to progress in this competition. Only veteran centre back Garry Monk could be considered a weak link, but really that is only the case against Premier League opponents, not a Championship side, a level at which he is still capable of playing.

Perhaps fatigue was an issue, but that's too easy an excuse to roll out in hindsight. It's true that Birmingham were dominant for the entire second half, but if the Swans players only had legs for the first 45 minutes, that should still have been enough to win the game.

Swansea's failure to finish a hatful of decent chances in the first half is the bigger reason Laudrup's men will have to settle for the consolation prize of a lighter schedule. Early on, it seemed only a matter of time before Bony would score, and score he did, though his goal might have been the winner had it come at the start of the match and not the end.

The league cup was a winnable competition, and Swansea were the holders. A little fixture decongestion is not going to placate Laudrup. The Danish pass-master might consider flipping his rolodex to E and digging out Preben Elkjaer's number. Laudrup's old friend and scoring foil in the Danish national side of the 80's hit an impressive 0.55 goals per game at the top level. Odds are he could teach the Swans forwards a thing or two about finishing, a lesson they apparently need.

Despite losing the game and being outscored three to one in the process, Swansea actually had more chances than their opponent, with 12 shots to Birmingham's nine. However, whereas Birmingham put five of their nine shots on target, Swansea could only manage two of their twelve. To put it more clearly, Birmingham managed 56 percent shooting accuracy, Swansea just 16.

It was a similar story back on opening day of the Premier League, when Swansea lost 4-1 to Manchester United. Until the floodgates opened, Swansea had been the better side. In that game, Swansea again took more shots than their opponent (17 to 14), but again were wasteful, with only 35 percent accuracy to United's 57.

Even in the Swans' victories over West Brom and Valencia, the story was much the same. Swansea outshot both those sides, too, but ended with a worse shooting accuracy in the game against Valencia (38 percent vs 40). Swansea only bettered West Brom with 33 percent because the Baggies fared even worse with a frankly appalling ten. Clearly, Swansea are not struggling to create chances. Laudrup's side have outshot their opponent in all but two games in all competitions this season (eleven matches total), but have achieved 50 percent or better shooting accuracy just three times in those matches.

On the surface, it looks like the Swans have everything else in place (set-pieces not included); squad depth, chance creation and style. Laudrup needs to figure out a way to get his forwards hitting the target more often than not. Only then can his side step convincingly into the top ten boots it has been designed to fill.