Swans win, but subpar set pieces a worry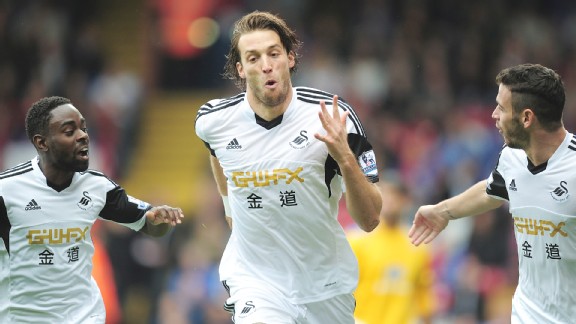 Jamie McDonald/Getty ImagesAn early Michu strike paved the way to another Swansea away win at Palace.
There's little doubt Swansea have exceeded expectations over their first two seasons in the Premier League. The small club have won some famous victories over the big six sides, but for every memorable underdog performance there'd be a forgettable shortfall against a weaker side, not so much a blot on the copybook as a stamp in red capitals declaiming the inconsistency of this talented side.

Having characteristically raised their game to sweep aside Europa League group favourites Valencia this week, there was every chance the Swans would trip up against Crystal Palace. Last season, you could almost have put money on it and not even bothered to check the result before cashing in. Not so this season. Swansea had the game won after just 90 seconds let alone 90 minutes, still on a collective high after battering Liverpool for an hour and strolling to victory in Spain.

- Match report: Crystal Palace 0-2 Swansea

After a supposedly slow start to his season, Michu proved that rather than being a goal-a-game player, he's actually closer to being a goal-a-day player, scoring his third in six days. Ben Davies continued to define himself as the least-marked man in football, enjoying free run of the entire left flank, while newcomer Alvaro Vasquez made intelligent runs, found space and set up Nathan Dyer's goal. In the end, the Swans eased to a 2-0 victory, but it could have been more, and not just because Vasquez missed a sitter.

At the risk of being overtly critical in the face of success, it is hard to ignore one clear weakness which Swansea have not yet addressed. The Swans might have overcome their complacency in less prestigious matches, but this is a side that can't buy a goal from a set-piece. Quite literally -- Jonathan de Guzman scored an absolute beauty against Valencia from a free-kick and he's only on loan.

Against Palace, Swansea's lack of threat from set-pieces was as notable as ever. Eight corners and nothing to show, although Chico did manage to hit the post once, which counts as a rarity. Swansea's set-piece frailty is a problem at both ends -- a fact which could prove decisive in the South Wales derby -- but for a cultured side coached by one of the most creative players in the history of the game, the Swans' attacking set-pieces are incomprehensibly artless.

Ironically, it was Palace who showed some small ingenuity with a novel free-kick routine of their own. Adlene Guedioura might have directed his shot straight at Michel Vorm, but at least the idea was decent.

Swansea's lack of collective height has long provided a ready-made explanation, even if the acquisition of players like Michu and Jonjo Shelvey has stretched the credibility of that excuse. The same problem hasn't stopped Swansea from throwing crosses into the box this season, a gambit which incidentally has almost never produced anything of substance -- most of Swansea's goals are scored with the ball on the floor.

So how poor are the Swans' set pieces? Last season, Swansea finished bottom in terms of set-piece goals scored, with five. For context, Manchester United, last season's champions, scored 26. The league average was 15 -- three times that of the Swans.

Penalty kicks are technically counted as set-pieces, and of course the Swans weren't awarded one all of last season. But then neither were Spurs, who still managed to find ten set-piece goals from elsewhere, twice that of Swansea, while Norwich, who only scored one penalty, notched 17 other set-piece goals.

These are not trivial figures. Last season, 25 of Swansea's 38 league games were either draws or ended with a single goals difference. Swansea won five of those games, but a single set-piece goal might have produced extra points in any one of the other 20 games.

Swansea have enjoyed a historic week, an excellent win at the Mestalla bookended by convincing league performances. The Swans' set-piece weakness might not be hurting them much, but imagine how much more dangerous this side could be for the sake of a few decent corner routines and a couple more like this from de Guzman?