Evolving Swans soar in Valencia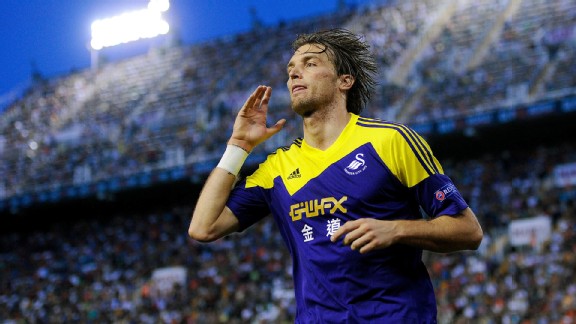 David Ramos/Getty ImagesMichu was one of Swansea's many Spanish players who took down Valencia on Thursday night.
Since their ascension to the domestic top flight, Swansea City have become the model to follow for the other 85 British football clubs which aren't a big six side. Swansea's partially fan-owned, debt-free existence and ability to play attractive football while unearthing transfer market bargains and rearing their own home-grown talent is no longer news. However, what Swansea's 3-0 victory over Spanish heavyweights Valencia amply demonstrated is how the Swans have achieved success by taking DNA samples from the very heart of contemporary world football -- Spain.

- Lowe: Laudrup's brilliance shines again
- Match report: Valencia 0-3 Swansea

A look at the team sheets on Thursday night revealed a curious fact; Swansea City's starting XI featured six Spaniards, while Valencia -- the actual Spanish side -- started only four. The Swans have a further two Spaniards in the squad who didn't feature, while non-Spanish players such as Jonathan de Guzman and Roland Lamah have spent time with Spanish clubs. Manager Michael Laudrup played for both Barcelona and Real Madrid, and has previously managed Spanish sides Mallorca and Getafe. None of this is a co-incidence.

Swansea's manager, style of play and majority of players are all steeped in the Spanish footballing culture at a time when that culture is the dominant force in world football. In winning Euro 2012, Spain became the first national side to win three consecutive major titles. Whatever they're doing, it's working, and Swansea have been quick to learn lessons from that success. In deliberately employing so many authentic Spanish influences, the Swans are rearing their own club-level version of the football Zeitgeist.

Had it been Germany, say, who won those three major titles instead of Spain and set the gold standard for modern football, might Swansea find themselves instead with a squad half full of German players and a manager boasting experience in the Bundesliga? That depends on how much prescience you believe the Swansea board possess, but I'm willing to suggest that Swansea's emulation of the best is in no way an accident. Huw Jenkins has followed world football closely and purposefully assembled a staff and squad at the leading edge of current football trends.

That's not to suggest that Swansea are merely copycats or liable to go out of fashion any time soon. Rather, Swansea's emulation of the World and European champions shows how this side are assimilating the influence of the best teachers presently available. The Swans have adapted their style, through inspired managerial appointments and player signings, to suit the climate. If that seems like a natural and obvious mode of evolution, you need only cast an eye over the 92 British league teams to see how many of them refuse to develop. While the board stays the same, Swansea will continue to evolve. When the next five to ten years sees a shift in football's most effective tactics or style, Swansea will shift along with it, incorporating new ideas into a successful foundation.

Faced Thursday night with an opportunity to spread their wings across European competition, the Swans flew past their first test at the Mestalla. Changes made to the squad which deserved more than a 2-2 draw against Liverpool saw Spaniards Jose Canas and Alejandro Pozuelo replace Englishmen Leon Britton and Wayne Routledge. Laudrup's intelligent rotation meant the Swans' starting XI ran deep with players used to the Spanish leagues -- Canas, Pozuelo, Chico, Jordi Amat, Angel Rangel, Michu, Jonathan de Guzman. Needless to say, it paid off.

During the game, Canas proved to be a one-man safety net, allowing de Guzman next to him to push forward while filling the gap between the centre-backs when they split. Pozuelo could play football in a phone box, teasing the Valencia defence, drawing fouls and creating all three goals (it was a foul on Pozuelo which led to the de Guzman free-kick). This Valencia fixture was, at least on paper, probably the toughest Swansea were going to face in the Europa League group stages. With a confidently won three points from that fixture, the Swans have taken a big step towards moving beyond the group stages, especially since group underdogs St Gallen beat Kuban 2-0 the same night.

Swansea continue to soar, largely because they've learned from football's best. On Sunday, they'll face a different type of challenge. Ian Holloway's Eagles await as the Swans travel to Crystal Palace, looking to turn a huge Europa League confidence boost into another three Premier League points.