Rested Williams, enlightened Davies ready for Liverpool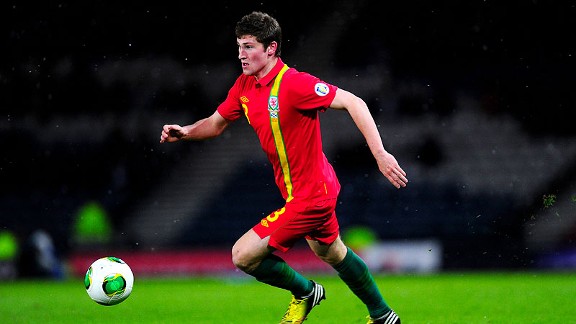 Stu Forster/Getty ImagesBen Davies learned some tough defensive lessons in Wales' World Cup qualifying loss to Serbia, but it eventually could help his game.
Wales' double-dose of midweek misery marked the nation's usual quadrennial failure to qualify for the World Cup, despite a cameo appearance from the world's most expensive player, Gareth Bale. Wales' loss was Swansea's marginal gain, however, as one yellow card brought a mixed bag of fringe benefits to Swansea ahead of their Premier League clash with Liverpool Monday.

Swansea centre back Ash Williams picked up a booking in the first of Wales' two World Cup qualifier defeats (2-1 away loss to Macedonia), which saw him suspended for Tuesday's home contest against Serbia. In missing the Serbian rout (a 3-0 defeat), Williams will be one game fresher for the Liverpool match than he might have been otherwise. That might not seem like much to boast about, but it is significant given Williams has featured in an average of 46 games a season for Swansea over the last five years.

The more interesting knock-on effect of Williams' suspension was that Swansea left back Ben Davies was moved over to cover for Williams in central defence for Serbia, his first high-profile performance as a centre back. Swans boss Michael Laudrup has hinted in the past that he considers Davies a viable cover option at the position, but this was the first real look anyone's had of Davies as a central defender.

Sadly, Davies' audition began in a somewhat inauspicious manner, with the under-6-foot full-back coming off second-best in two aerial challenges which produced the first Serbian goal. If Davies had been beaten to the first ball, at least he tried to compete for the second -- Aaron Ramsey and Danny Gabbidon, who were equally well placed to deal with the threat, just stood around and watched as Filip Djordjevic flipped his header past Boaz Myhill at his leisure.

Davies' inauguration as a centre back might have been something of a baptism by fire, but the experience can only strengthen Laudrup's vision of a versatile, flexible Swansea roster. Davies should return to his familiar left back spot when Liverpool come to town Monday, and could look to play a pivotal role in Swansea's counter-attacking game given the absence of Liverpool's Glen Johnson.

Without Johnson's forward runs to defend, and faced with the useful if non-threatening Jordan Henderson on the right wing, Davies should be able to press forward more than right back Angel Rangel, who'll be busy trying to keep Philippe Coutinho quiet on the other flank. Last week, Davies showed his increasing value to the Swans attack with a wonderful volleyed goal against West Brom. Although something similar against Liverpool would be fantastic, Swansea will hope Davies' latest international experience will have reinforced his defensive game, as the Swans have shown vulnerability to attacks on that flank so far this season.

Most sides give up the majority of shooting chances from central positions. Swansea give up a fairly standard 62 percent of shots from the centre, with 11 percent coming from the Swansea right flank. This leaves an unusually high 27 percent of shots faced coming from the Swans' left flank.

This imbalance can be explained in a number of ways. Pockets of space open up behind Davies when he makes attacking runs, but a lack of pace from Williams, the left-sided centre back, compounds the problem. On the right side, Rangel's underrated defensive skills keep a tight ship, but his own forward runs are well-covered by the fast feet of Chico Flores.

Swansea will be thankful then that the gifted Coutinho will face the right side of their defence come Monday. With Johnson out, Liverpool will be less well-equipped to exploit Swansea's left flank vulnerability, which should help even the playing field. However, beyond the flanks, the Swans have shown another secret weakness which explains why Laudrup's side have the Premier League's joint-worst goals against.

Sixty-eight percent of the shots Swansea have faced this season have come from inside their own penalty area. To put that in context, the league's best defences (Liverpool, Chelsea, Spurs and West Ham) average only 45 percent. Bottom place West Brom have 54, winless Sunderland 43 and even the newly promoted sides are averaging 56. If Swansea allow Liverpool the liberty of getting that close to goal before shooting, then Liverpool look set to make if four wins out of four. If the Swans -- spurred on by Davies' broadened defensive understanding and a rested Williams -- can force the reds to shoot only from distance, then they'll have a chance to get something from the game.

Predictions?