How the new faces fit in at Swansea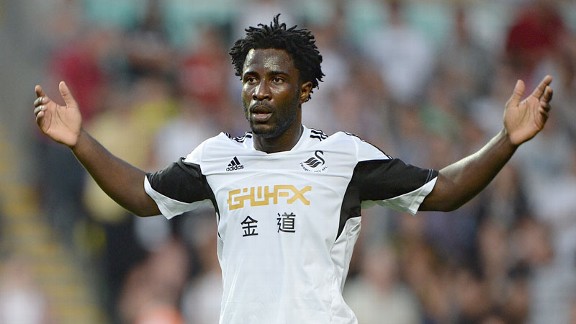 Michael Regan/Getty ImagesWilfried Bony has already made a difference at Swansea.
Swansea City conducted most of their transfer business early this summer, and more or less got what they wanted. Whilst other sides left it late (Manchester United, Arsenal), overspent (Cardiff) or sat and did virtually nothing (Newcastle), Michael Laudrup and Huw Jenkins quietly enjoyed a particularly successful summer.

The Swans rode the same 13 or 14 players all the way through last season's Premier League and League Cup run. With new Europa League commitments to face this season and a handful of squad players absorbing wages without actually playing, it was clear Laudrup would need to make some changes.

In defence, Swansea lacked depth. Last season's starting partnership of Ash Williams and Chico Flores were dominant, but beyond that pair only veteran Garry Monk was deemed worthy of retaining a squad number. Fellow veteran Alan Tate and youngster Kyle Bartley were both loaned out, with neither deemed capable of playing the high line Laudrup's system utilises.

Spaniard Jordi Amat was added to push the starters, who ought to be less complacent now they face competition. Amat is young, has a lot of potential, and like all Swansea players is comfortable on the ball. He's already shown he's capable of starting for this side and just as capable of putting in a strong tackle.

Already deep at full-back, the Swans only needed a cover option, so the re-signing of Dwight Tiendalli makes a lot of sense. Tiendalli played well last year when he was signed in the wake of Neil Taylor's early season injury. Having not initially re-signed with the Swans, Tiendalli can thank another Taylor injury for his latest contract. Jazz Richards, who had looked to fill the cover spot himself, now looks more likely to be loaned out for a second successive season.

The Swans midfield was given the biggest facelift during the off-season, with two players shipped out (Mark Gower and Kemy Agustien), a third loaned out (Ki Sung-Yueng) and three new faces brought in (Jonjo Shelvey, Jose Canas and Alejandro Pozuelo). Jonathan de Guzman's season long loan was also extended a further season.

The loss of Gower was largely inconsequential, as he never featured under Laudrup. Agustien was given ample opportunity last season to show what he could offer, but the agreement to sign Canas, which dates back to last January, pretty much put the writing on the wall for the Dutchman.

Canas is a player who can effectively spot Leon Britton, a task which none of the Swans other midfielders have seemed capable of until now. He also gives Laudrup the option of fielding two defensive mids at a time, and having plied his trade in the Spanish top flight is used to defending against some of the world's best players. Former Betis team-mate Pozuelo is a gifted attacking midfielder, who can shift to the flank or even play striker. Pozuelo will allow some rotation among the front lines.

Shelvey's addition has already proved significant. The former Liverpool player's passing range and physical style have given the Swans new options on the field. Laudrup has always been keen to add long-range passing to the side's established short-pass system, and Shelvey brings that ability as well as a little of the steel the Swans midfield has lacked for so long. Handed the number eight shirt, Shelvey has already become a valuable starter and when he adds some polish - he's still just 21 - he'll look like a bargain at £5 million.

In attack, Laudrup had a straight-forward task - find a top class starting striker and a cut price back-up. Record signing Wilfried Bony was brought in to lead the line in front of Michu, and already looks like a handful. Big, physical, strong in the air, hard to knock off the ball and carrying a heavyweight shot, he's already shown his scoring touch and should be worth his £12 million price tag.

Bony's understudy Alvaro Vasquez was brought in on loan with an option to buy in the future. With an agenda to get the most out of a small squad and a stringent wage structure, Laudrup hasn't simply tried to double-up like-for-like, opting instead for versatility. A different type of striker to Bony, Vasquez is fast and crafty, and should see some action in defensive stands when he'll become the target for long passes on the counter attack. Both players are a significant upgrade on Luke Moore and Itay Shechter, who have since departed.

With a handful of promising prospects also signed this window, Laudrup and Jenkins have neatly re-vamped the squad, installing strength in place of weakness without breaking the bank. Perhaps the Ki Sung-Yueng situation might have been handled differently, but that blip aside, Laudrup and Jenkins' transfer window activity this summer has been exemplary.