Win at West Brom shows Swans finally clicking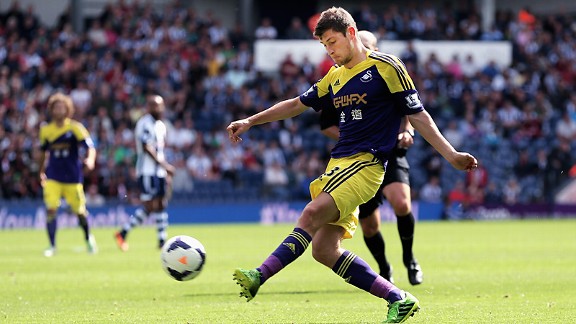 David Rogers/Getty ImagesBen Davies helped Swansea get back on track with a first half goal against the Baggies.
It wasn't really surprising that Swansea lost their two opening games of the Premier League season. Manchester United are still Manchester United, regardless of the big change at the top, and Spurs continue to take impressive steps towards mounting a top three challenge. However, one of the real issues behind the Swans' underwhelming start to the season might have been hidden behind the convenient excuse of superior opposition. In the early part of Sunday's game versus West Bromwich Albion, which Swansea went on to win 2-0, that issue became obvious.

- Report: West Brom 0-2 Swansea

Michael Laudrup has added well to his squad this summer while deftly pruning tired leaves in the process. The Swans' summer transfer business has seen the previously weak underbelly of the squad transformed into a second starting XI's worth of top-tier talent, but real talent demands a careful balancing act. In previous years, the Swans' squad has boasted strong individuals, but has thrived because of a team ethic. There has always been the sense that no player was bigger than the machine; each merely a cog, interchangeable with another of compatible size and function (except, perhaps, for Leon Britton).

The implication is that no one player could ever make himself truly indispensable to the team because no one player was sufficiently talented to overshadow the team. This might sound like a slight, but it is rather a compliment to a well-run football club that has always managed to assemble a humble playing staff well suited to the team style. At the top level, a team of effective role players is seldom enough to thrive, only to survive, and in Laudrup -- one of the singularly most talented individual players of his generation -- Swansea have an ambitious manager with aspirations beyond mere mid-table supremacy.

The Swans' new 'problems' arrived last summer with Michu. For the first time in a long time (perhaps since Lee Trundle), Swansea had found a player who could carry the team, the one name every neutral fan knew, the one name every lazy examination of the Swans would fixate upon. Thankfully, Michu has turned out to be so much more than an individual -- his work rate, back checking, tackling, enthusiasm and selflessness make him the ultimate team-player, rather than an individual obsessed with personal glory as might be inevitable from a top scorer.

Since Michu, Laudrup has flooded the squad with similar talent. It's all part of an evolution designed to establish Swansea not just as a perennial Premier League side, but a top ten Premier League side. In the process, his side have changed from being a squad of cogs, each with a specific purpose to execute on the field, to being a squad of multi-faceted footballers with a more expansive tool set, more weapons, more ammunition.

It feels like an affront to Swansea's flowing football style to suggest that this side have actually been the product of well-disguised limitation, but it is one of the secret factors to Swansea's success. The Swans' footballing blueprint has been easy to follow; each player's job on the pitch easy to understand. The board has become adept at identifying players with precisely the right skill-set to thrive in the system, and with some limits on behaviour if not ability, the Swans' system became one predicated on predictability. The players knew what they could expect of each other, and in such a system, fluency was quickly achieved. The system was very effective -- it took the Swans to the Premier League.

At the top level, rival managers began to figure out how to stop the Swans' plan. David Moyes in particular identified that all his Everton side needed to do to stop Swansea was press hard to disrupt the short passes -- because there wouldn't be a long pass to worry about -- and make life miserable for Britton, who had always been the Swans' central cog. And it worked. Until Laudrup nullified Moyes' Everton at Goodison Park last season in a goal-less stand-off, Moyes had consistently and easily beaten the Swans.

Now, with players like Jonjo Shelvey, the Swans can produce 60 yard passes. Jose Canas, heir apparent (or at least time-share partner) to Britton's throne also has an eye for a long pass. The skilful Alejandro Pozuelo matches Pablo Hernandez and Wayne Routledge for unpredictability. This Swans squad is now full of players who no longer play to a narrow pattern, players who have the ability to go beyond a simple remit, and it can cause problems. Until the players properly gel, the occasional misfire is to be expected. In the first two games, a lack of cohesion hurt the Swans. Against West Brom, the Swans finally clicked, and once these players truly know each other, this side will have taken a significant, expansive step forward.