Defeat to Petrolul a good wake up call for Swans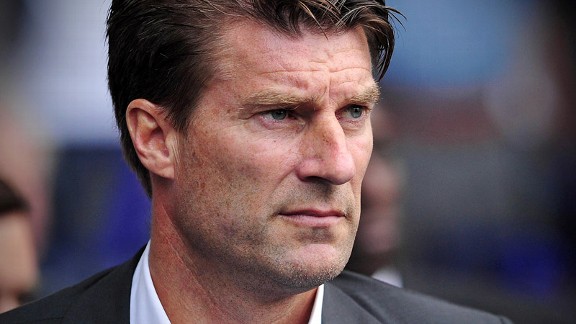 CARL COURT/AFP/Getty ImagesSwansea manager Michael Laudrup will face old Spanish rivals Valencia in the Europa League group stage.
With a four goal advantage heading into Thursday night's game, Swansea were never likely to be embarrassed by Petrolul Ploietsi. However, the Swans struggled to assert themselves and allowed Petrolul a parting shot in a 2-1 defeat.

- Report: Swans through despite defeat

As anticipated, Michael Laudrup made wholesale changes to his first XI, finding room for Gerhard Tremmel, Jordi Amat, Alejandro Pozuelo and -- notably -- Rory Donnelly. It was good to see the youngster handed a start, even if Donnelly's inclusion further highlights the Swans' need to secure another striker before the close of the window.

In the event, Donnelly struggled to cope with the occasion throughout the first half, but managed to score a goal which was disallowed in the second and looked much more lively afterwards. It might be too soon for Donnelly to make an impact -- he could use a circuit or two round the weights room with Ash Williams and a loan spell somewhere -- but the full 90 minutes will have given him plenty of encouragement.

Pozuelo, always involved, had a fine game and set up Roland Lamah for his first Swans goal. He picked up an unnecessary yellow, but then so did five other players before Leon Britton went one better and collected a rare red. The lack of discipline was endemic to the Swans' overall performance, and it was disappointing that rather than assert themselves as the stronger club, the one playing with a 5-1 aggregate advantage, Swansea lazily slipped to the level of their opponents instead.

Perhaps it took the hosts a little while to establish any kind of scoring threat, and so for the first 45 it would be easy to say the Swans turned in a professional away performance. In actuality, it seemed the Swans were only sleeping, and when Petrolul broke their slumber in the second half, Swansea seemed unable to put out the fire with any real conviction, the game breaking down into a scrappy cat-fight as the bookings mounted up.

The Swans' new status as a Premier League club -- and an increasingly comfortable one -- should have equated to at least a clean sheet in Romania and certainly a measured, calm performance. Petrolul only stole a late away goal in the first leg owing to a piece of individual brilliance, and even on foreign soil, even with a rotated line-up, the Swans should have been noticeably the better side.

Nevertheless, Swansea progress to the group stage where they will face home and away fixtures versus Valencia, Kuban Krasnodar and St Gallen. Broadly speaking, the Swans' real hopes of progressing lie in bettering Kuban's results. With all due respect, St Gallen are likely to play the group's whipping boys while Valencia are the clear favourites to win, which effectively makes the second place position a two-horse race.

The Swans can't afford to be as soft in the group stages as they were on Thursday night, but their complacency was at least understandable. In the group stages, goal difference will matter just as much as results, and the Swans will have to be more consistent to progress.

One last observation from Thursday night -- I had wondered before the game whether Ki Sung-Yueng would play, and it turns out he did, coming on as a second half substitute. Most interestingly, he finally got to play in the hole, after Michu was withdrawn for Canas with around 15 minutes left to play. Although he had hardly enough time to really show his skills, he did try a cheeky back-heel and put Donnelly through on goal with some tidy close control. The Swans have over five million invested in Ki. It looks like Laudrup might allow Ki the chance to play his favoured position before deciding whether to ship him out on loan after all.