Squad depth faces test in Romania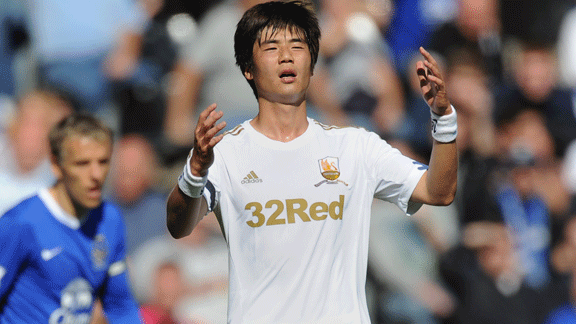 PA PhotosKi Sung-Yeung has found himself on the outer at Swansea, but could get a chance to prove himself in the Europa League.
Swansea head to Romania on Thursday night to close out their Europa League qualifier second leg against Petrolul Ploiesti. With the Swans taking a 5-1 advantage with them and leaving several injured players behind, we should get a good look at some of the Swans' second string talent.

The Swans will have holes all over the first team to fill, with Neil Taylor and Ash Williams absent from defence, Jonjo Shelvey out of midfield, Nathan Dyer missing from the wing and Wilfried Bony vacant up front. Goalkeeper Michel Vorm also looks likely to be rested to give Gerhard Tremmel a shot between the sticks.

All these empty places should mean Alejandro Pozuelo gets another full 90 minutes to play with. Pozuelo's only start to date came against Malmo in the previous round where he featured on the right wing, but his natural tendency to drift inside compromised his performance. Since then he's played the impact sub rather well, scoring against Petrolul in the first leg and impressing for half an hour against Spurs.

Williams' absence from the centre of defence will give Jordi Amat another start (and Leon Britton the captain's armband for the night), whilst Taylor's newest injury means Ben Davies will have to play. Michael Laudrup has eased the burden on his full-backs by successfully re-signing last season's stop-gap solution Dwight Tiendalli. Tiendalli was previously excellent, but wasn't re-signed in time to be part of Thursday night's squad. No matter; he missed the pre-season and so probably isn't match fit anyway.

Perhaps most intriguing will be Laudrup's selection in midfield. Rumours abound that Ki Sung-Yueng has been in Laudrup's doghouse since the end of last season (apparently owing to Ki's attitude in training) and as such the Korean is looking to leave the Liberty. Sunderland seem to be the most likely destination on a season-long loan, which seems unadvisable on the one hand since it strengthens a rival, and an admission of failure on the other.

Ki has never been a defensive midfielder, but he's always been asked to fill that role for the Swans. Rightfully, he should have featured in the hole, where his diagonal passes, awesome long-range shooting, lack of aerial ability and poor tackling would all be a better fit. Instead, Laudrup turned to an old favourite Jonathan de Guzman, who was drafted into the Swans squad last summer along with Ki, giving Swansea one too many hole players and one too few holding mids. Ki got the short straw and has been wasted ever since.

With Jose Canas and Shelvey in the fold -- players who are both better suited than Ki to the deep role -- I thought Ki might get a shot in the attacking mid spot, but the hole is officially Michu's office once again since the arrival of Wilfried Bony, and Laudrup's continuing preference for De Guzman means Ki still doesn't get a look even when Michu is shunted back up front, as was the case against Spurs.

All this has conspired to make Ki the odd man out -- for me, his absence from Thursday night's game will mean he's as good as gone, on loan if not permanently, especially since Bony's absence will almost certainly mean Michu starts as striker, which opens up space for Ki in one of three midfield positions.

Bony's absence highlights the last glaring deficiency in the Swans squad - lack of strikers. I couldn't understand Laudrup's pursuit of West Brom's Peter Odemwingie until I thought back to those few games last season when Laudrup shifted Nathan Dyer from the wing to play striker.

It was a gambit Laudrup used against strong teams (Chelsea for one) in games where the Swans would sit back and ping outlet balls to Dyer, hoping he could use his pace to score on the counter. Dyer's never had striker-calibre finishing ability, so rather than pursue a Bony-lite, Laudrup will look to broaden his squad's versatility by chasing a fleet-footed striker instead -- one he can use in defensive stands, where the Swans best chance will be long outlet passes to a fast lone forward.

Time will tell on that front, but in the meantime, Laudrup's squad selection against Petrolul can tell us plenty of interesting things; how well Pozuelo and Amat are fitting in, whether Tremmel can continue his excellent form from last season and above all whether Ki still has a role to play at this club.