All about key decisions for Laudrup's Swans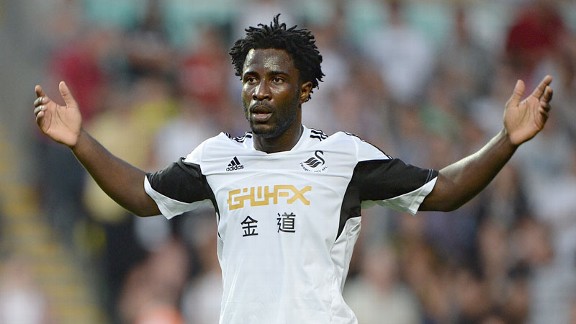 Michael Regan/Getty ImagesWilfried Bony has already made a difference at Swansea.
It's rare that Michael Laudrup's Swans don't play pretty football. In Sunday's 1-0 defeat to Tottenham, a disjointed performance from Swansea -- exacerbated by the muddled inconsistency of referee Neil Swarbrick -- wasn't enough to swindle any points out of Spurs. However, the Swans defence was much improved since Manchester United's 4-1 dissection of it on the opening weekend, conceding only from the spot and otherwise keeping Roberto Soldado & Co. quiet.

The spot kick and the controversy surrounding it summed up the afternoon. For a start, the penalty should never have been given -- Andros Townsend might not be an overt diver, but he does seem to be gravitationally challenged. However, Townsend ought to have a won a penalty earlier for a legitimate foul from an underwhelming Jonjo Shelvey, for which Swarbrick only awarded a free-kick on the edge of the area.

At the time, it seemed like Swarbrick might have been trying to redress a series of petty and unjust calls made against Swansea leading up to that point. Given the half-time interval to see via replay by just how much of a margin he had denied Spurs a blatant penalty, Swarbrick was apparently just waiting for a Tottenham player to go down in the box so he could whistle the make-up call. Cue Andros Townsend.

Swansea ended the game with an unbalanced four yellow cards to Spurs one, despite Pablo finishing the match with an imprint of Kyle Walker's studs on both shins so comprehensive he could practically take a cast of them to sell on eBay. The referee might have made a hash of Spurs legitimate penalty shout, but Tottenham still got a free-kick in a dangerous place out of it, whilst two Swansea corners were also given as Tottenham goal kicks.

Little wonder then that Swansea struggled to find their usually fluid football. Laudrup's decision not to start Bony didn't help matters, and only highlights how badly the Swans need a second striker to share the load (though I'm not sure Peter Odemwingie is the answer). Michu made it clear last season how frustrating he finds it to play as the lone striker. He is far happier in the hole, where he can come deeper, contribute more and use his elite game-reading skills to their best advantage. Against Spurs, at least until the appearance of Bony, Michu struggled to get involved and subsequently picked up a booking.

When Bony did make his second half appearance from the bench, the Swans started to look noticeably more cohesive. Bony increases the Swans threat exponentially; he commands the attention of both centre-backs, which in turn frees up Michu. It is to Laudrup's credit that he dared to allow his Swans to at least probe forward occasionally rather than putting ten men behind the ball as in last season's equivalent fixture. However, without either full-back in permanent attacking mode and the deep mids staying deep, the Swans few attacks broke down from lack of support. Still, as an exercise in keeping the Spurs defence honest whilst discouraging Tottenham from flooding the Swans half completely, it served its purpose.

To Tottenham's credit, Spurs positional play was superb and a large part of the reason the Swans passing game sputtered all afternoon. It seems entirely likely that the result might have been the same even with different officiating (although Spurs didn't have too many real scoring chances), and holding this Spurs side to a lone goal from a penalty kick is still a big positive for Swansea to take home. It just might have been nice to see both sides at their best, rather than compromised and frustrated into an endless series of cynical fouls due to sometimes baffling refereeing decisions.