Performance a priority for Swans versus Spurs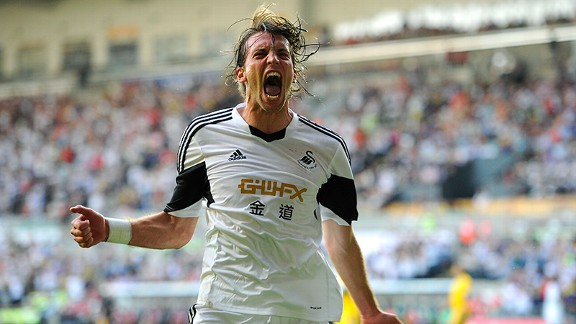 Stu Forster/Getty ImagesMichu has shown off his midfield talent at Swansea, and is less effective in the striker role he filled for Spain last week.
Swansea's encouraging Europa League exploits of recent weeks have helped soothe a disappointing start to this season's Premier League campaign. David Moyes' Manchester United put four past an atypically porous Swans defence at the Liberty on opening weekend, but with confidence back on a high following a 5-1 victory over Petrolul Ploiesti on Thursday night, the Swans should give a better account of themselves when they visit Spurs this Sunday.

- Report: Swans soar toward group stage

Last season's equivalent fixture saw Michael Laudrup successfully instill a new ultra-defensive approach into his usually attack-orientated side. Swansea lost that match 1-0 from a late set-piece goal, but Laudrup's experiment in bus parking was at least a partial success -- later on, the Swans would employ similar tactics to beat Chelsea en route to the club's historic league cup win.

This season, the Swans early fixture list is punishing, and Laudrup's men will have to wait until a match versus newly-promoted Crystal Palace in four games time before they can be considered favourites to win, and even that game is an away trip. In the wake of the Manchester United blow-out, does Laudrup look simply for damage limitation against Spurs, or try something a little more daring?

Swansea have improved much since last season -- on paper at least -- but then, so have Spurs. Perhaps Laudrup might have greater ambitions this time around than to simply shut up shop and hope for a goal-less draw, as Spurs away still represents a game from which Swansea aren't expected to take any points.

A quick glance over the team-sheet from last season's fixture is telling. That Swans' side featured five players who are no longer with the club. Danny Graham, Kemy Agustien and Luke Moore -- players since deemed unsuitable or simply not good enough for Laudrup's squad -- all played some part in the action (as did Dwight Tiendalli, while Itay Shechter was named on the bench). Just eight months on, this season's squad is considerably better, which only shows how quickly Swansea are developing in the top flight.

Spurs ought to be without Gareth Bale for the game (or many more games for that), which should dampen some of the Tottenham threat, but the Swans' defence will still have to do a lot better against Roberto Soldado than they did against Robin van Persie and Danny Welbeck last week. The vast contrast in the level of actual goal threat presented by Swansea's Europa League opponents versus their Premier League opponents might be excuse enough for the back four's complacency versus United. The mid-week victory might have been a welcome relief, but the Swans still have something to prove until they defend well against elite opposition.

Laudrup's squad selection ought to hint at his tactics and since next Thursday's second leg against Petrolul Ploiesti should be straightforward enough to entrust to second-string players, it seems likely the Swans will field a full-strength squad. Defensive midfielder Jose Canas and left back Ben Davies were rested for this game, with Davies expected to neutralise the under-rated Aaron Lennon. Meanwhile, the likely presence of big unit Wilfried Bony up front should keep the Spurs defence honest, which might be enough for the Swans to edge a point.

At this stage of the season, the focus will be on emerging from those tough opening fixtures with team spirit intact and as healthy a goal-difference as possible, which means for once the result is actually less important than the nature of the Swans' performance.

Predictions?