Newcomers key in Europa rout
Swansea all but booked their ticket to the Europa League group stage with an easy 5-1 win over Romanian side Petrolul Ploiesti Thursday. A routine victory against weaker opposition shouldn't mask the contribution of the Swans new players, who are helping to reinvent the way Laudrup's Swans play during the Dane's second season in charge.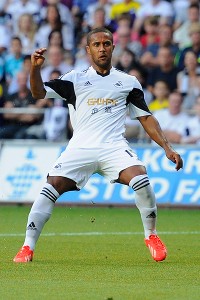 Stu Forster/Getty ImagesWayne Routledge scores the opening goal for Swansea Thursday.
Apparently wanting to take maximum advantage of the home leg against Petrolul, Laudrup fielded a very strong starting XI. Newcomers Jonjo Shelvey and Wilfried Bony started at midfield and striker, respectively. Although Bony didn't officially score -- his nearest effort registering as an own goal for Petrolul 'keeper Peterson Peçanha == his presence was vital to Swansea's attacking play.

Bony's physicality poses a real problem for defences. Referee Sergei Karasev proved to be somewhat whistle-shy, choosing to waive several borderline challenges on Bony which, under Premier League conditions, might have produced set-piece opportunities. The striker was double-marked almost the entire game, and yet still managed to force a goal with one strike and hit the bar with another. Bony acted as a magnet for both the Petrolul centre backs, which in turn created acres of space for Michu in the hole and allowed both wide men -- Wayne Routledge and Pablo Hernandez -- to flourish.

Routledge was the most grateful beneficiary, netting twice, coming close to a hat-trick and given further license to roam by a mostly absent Petrolul full-back. Routledge's second -- a rare header -- came when Pablo weighted a cross over the heads of Bony and his entourage of Petrolul defenders to a wide-open Routledge. Had the Petrolul defence been slightly less concerned with Bony, perhaps Routledge would have had a less-profitable evening. But then, had the defence been less concerned with Bony, the Ivorian would have almost certainly punished them.

Bony's movement also caused Petrolul some problems. The striker was able to pull the centre backs out of position and create gaps in the Petrolul defence, which the trio of attacking mids in the Swans secondary line were more than happy to use. On the evidence so far, Bony might be one of those most prized strikers, set to be deemed 'unplayable' in much the same fashion as the likes of Romelu Lukaku and Christian Benteke last season, and -- at his best -- dare I say Andy Carroll.

However, whereas last season's West Brom and Aston Villa sides perhaps lacked a supporting cast for their superlative strikers, Swansea are fully loaded with opportunistic technicians more than happy to feed off the many scraps Bony's presence alone will provide. And of course, far from being simply a big target man to intimidate defences, Bony can finish his chances, too. His first touch-turn-and-shoot under double coverage at the beginning of the second half Thursday deserved a goal, and would have produced one too but for the slightest touch off the shoulder of Peçanha.

Beyond Bony, Shelvey again showed his value to this Swansea side. The midfielder was permanently on hand to scoop up the loose change in the centre of the park, drive at the Petrolul defence and pitch perfect 60 yard passes to pull the opposition apart at the seams. Barring one late challenge and ensuing bit of 'afters' -- the one side of Shelvey's game it would be nice to see coached out of him -- his passing was exemplary, and he directly created two of Swansea's goals.

Shelvey might have become complacent with fatigue after the hour mark and was withdrawn, but his presence in the Swans' midfield continues to give Laudrup's side a new dimension, one missing from last season's version.

The new pieces are more than gelling with the old; they are helping to redefine the Swans' game, adding the extra dimensions of precise long-range passing, greater physicality and a top drawer goal threat. With a four goal advantage, next Thursday's second leg ought to see some rotation, and perhaps a start for Alejandro Pozuelo, who was much improved this time out, netting his second in three appearances.

Before then, the Swans have a chance to prove they can play as well against better opponents with a league fixture against Spurs on Sunday.