Swans' Europa League tie evokes memories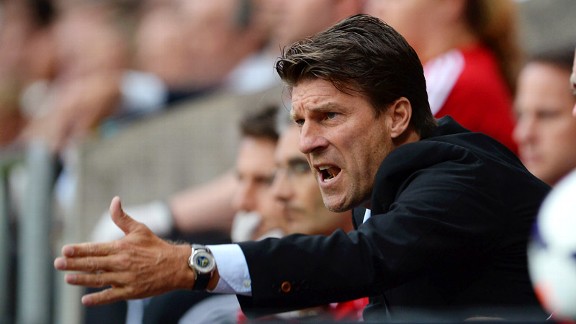 Michael Regan/Getty ImagesMichael Laudrup will have to juggle both Europa League and Premier League fixtures in the upcoming days.
Swansea City are just two matches away from reaching the group stages of the Europa League. To get there, Michael Laudrup's men will have to beat Romanian side Petrolul Ploiesti over two legs, a task which on paper might look straightforward. However, Celtic's unexpected defeat to little-known Kazakh side Shakhter Karagandy in their Champions League qualifier last Tuesday should stand as a cautionary tale; that to underestimate an obscure opponent can prove costly.

- Report: Laudrup wants shorter transfer window

If there is an aspect of the modern game which can still generate a touch of nostalgic romance in an increasingly business-focused sport, it is the early stages of the European club competitions. Present day fixtures against opponents which are foreign in more than one respect of the word recall a time before television stripped the mystery from overseas leagues.

Nigel Blackwell sang 'All I Want For Christmas Is A Dukla Prague Away Kit' the same year Michu was born, and while that ode to spoiled school friends might only be as familiar to the layman as the team of its title, most of the rest of world football has finally caught up. This is not an age where many teams can hide from the internet trawl, so to find Swansea matched-up against a truly obscure side is at least an attractive novelty, if not also a touch disconcerting.

The thing about playing a known side is that you know them -- their strengths, weaknesses, best players, YouTube highlights reel, all available from your phone, much less your laptop. It goes without saying Laudrup and his staff will have done their homework, but as fans, we have no idea how things will play out, beyond the implied advantage conferred by superior brand recognition.

Interestingly, it has been almost as long since Petrolul Ploiesti were in European competition as it has been for Swansea -- some twenty years or so. Also interesting is that Petrolul Ploiesti beat Vitesse Arnhem, former home of Wilfried Bony, in the previous round of the competition. In that game, Petrolul's Gheorghe Grozav pinched a late winner in a close 3-2 aggregate win.

Grozav is Petrolul's top scorer in Europa League qualifying so far, with five goals in four games, making the winger/attacking mid/striker the man the Swans will have to worry about the most. The Swans' defence will want to put in an improved performance following their schooling versus Manchester United in the Premier League opener last Sunday, and stopping Grozav might be a good place to start.

With the return leg played a week after the first, and a league match against Spurs sandwiched in-between, Laudrup will face his first real rotation test. Midfielder Jonathan de Guzman and winger Nathan Dyer will both miss Thursday night's game with injuries. Meanwhile, Laudrup will want his key starters fit for the Spurs game, and so it might look to start secondary players against Petrolul -- which in turn opens the door to a possible upset if the complexion of the team isn't right. The Swans' revamped squad has quality top to bottom, but with so many new faces in the fold, any miscommunication has the potential to create mistakes.

If nothing else, an unknown opponent and an unpredictable Swans starting XI should lend Thursday night's qualifier a touch of exciting old-school mystery.

Predictions?