Swans could spoil Moyes' United debut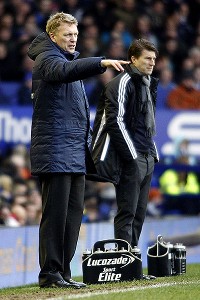 AP PhotoAll the pressure will be on David Moyes, left, when he makes his Manchester United managerial debut Saturday against Swansea and Michael Laudrup.
Swansea City are a side that loves a sense of occasion. Since winning the Championship playoff final, the Swans have hoisted the Capital One Cup, established themselves as a legitimate Premier League side and chalked up more than a few good results against the league's biggest teams in the process.

Swansea have already started this season's Europa League campaign with a flourish, beating Malmo 4-0 on aggregate. When the Swans' Premier League campaign begins with a late home kickoff against Manchester United this Saturday, the eyes of the football world will be watching.

However, the collective and sometimes critical gaze of the cognoscenti will not scrutinize the Swans. Rather, it will be new Manchester United boss David Moyes under examination.

-Swansea season previews: Hicks | Fantasy

Enough has already been written and said about the challenges Moyes will face as the newly installed head of arguably Britain's biggest team. Suffice it to say he will be expected to get a result against Swansea, but the Welsh club perhaps represent the ultimate trap fixture for Moyes on his début. Here is a side who know how to beat the big guns, and one which will be afforded the freedom of playing without pressure come Saturday.


Any team wants to start its season with a win, but handed an opener against the reigning champions, a mid-table club such as Swansea can temper its ambitions. No one will be too critical of the Swans if Moyes takes all three points, and any other result would have to be considered a bonus for Swansea. Unlike United, the Swans have had an excellent preseason which ended with a perfect winning record. It's easy to disregard friendlies, but winning is winning and it can only inspire confidence.

The Swans will be without injured midfielder Jonathan de Guzman, but Swansea's summer reinforcements will more than offset the Dutchman's absence; Michael Laudrup has multiple choices in midfield, with the likes of Jonjo Shelvey, Ki Sung-Yueng, Leon Britton and Jose Canas from which to choose.

Also doubtful is new Swans striker Wilfried Bony, who is set to return to Wales from international duty with Ivory Coast the day before the United fixture. The striker will be of immense importance to Swansea this season. With Swansea facing a packed schedule, Swans fans will be hoping Laudrup's talk of bringing in a second striker before the close of the window leads to one last signing to go with the half a dozen or so already made.

In contrast, Moyes has hardly made any signings. His side has a strong core of young English players who all ought to be slighter older, slightly wiser and slightly better this season. But while so many other teams have reinforced in earnest this summer, United seem to be treading water. If nothing else, the difference between the clubs' transfer strategies this summer means that while Moyes will field a familiar side, Laudrup's Swans might be harder to predict.

Moyes does have a strong record against Swansea, although Laudrup finally broke the Scotsman's spell in a goalless draw against Moyes' Everton last season. In that game, the Swans set out to defend first and foremost while away from home. On Saturday, the Swans will be at the Liberty, and while that might put more of an onus on Laudrup's side to attack, the Swans' potential for counter-attacking probably remains their best chance to upset Moyes' apple cart.

What might usually be considered a tough game for Swansea is if anything an even tougher one for Moyes. The Swans can play with freedom, without pressure at home against a United side very much in transition. If ever the champions were vulnerable to defeat, it might be Saturday. Moyes is a master tactician, and I'd expect him to find his feet fairly quickly. However, Saturday might be a little too soon, and the Swans have a real chance to come away with a result.