Laudrup changes equal no goals, Europa advancement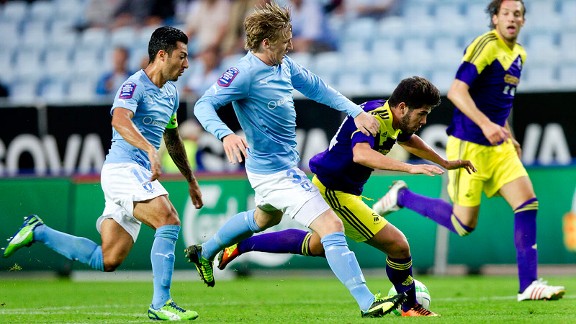 BAX LINDHARDT/AFP/Getty ImagesSwansea's Alejandro Pozuelo, second from right, was one of seven players rotated into the Swans' starting lineup by Michael Laudrup.
Michael Laudrup made seven changes and his Swans side walked to a goalless draw Thursday in the second leg of their Europa League qualifier at Malmo, winning 4-0 on aggregate. Swansea ought to have scored but for a poor offside decision and were also denied a strong penalty shout late in the game.

A Swans goal or two wouldn't have made any difference to the result, but might have at least made for a slightly more entertaining game. Instead, Swansea were able to treat the fixture as a luxury practice match with at least a nominal competitive emphasis, which will have helped the squad if not the television ratings.

As promised, Laudrup rotated his starters in earnest. Jose Canas got his first start in place of Leon Britton and excelled. Canas appears able of a greater range of passing than Britton, even if he's not quite as neat and tidy as his diminutive teammate when under pressure.

In fact, with Jonjo Shelvey absent due to illness, it was Canas who took up the task of delivering the occasional long pass, and it was his sublime ball which might have led to a Wilfried Bony goal but for the linesman's flag. It will no doubt please Laudrup the player he brought in specifically to rotate with Britton appears more than capable of doing so.

Another new addition, Alejandro Pozuelo, perhaps didn't impress quite as much. Starting on the right flank, Pozuelo -- a central attacking midfielder by trade -- couldn't help but drift inside a little too often, leaving full-back Jazz Richards isolated and sabotaging the Swans reliance on right-flank buildup play.


Although he later corrected this tendency, he never really convinced and was muscled off the ball a little too often. At least Laudrup will know not to start the small Spaniard against Stoke.

That said, Pozuelo did flash some skills, the best of which was the deft chip which led to Jonathan De Guzman's penalty appeal. With a little more time to adjust to his new team-mates and learn Laudrup's system, Pozuelo should come good. It is telling that he seemed a different player Thursday -- named as a starter -- than he did coming on to a three-goal lead as a substitute and scoring the Swans' fourth in the first leg. Confidence is apparently a factor.

Pozuelo wasn't the only winger to struggle. On the other flank, Wayne Routledge had a game to forget, his usual magic sputtering as Swansea attacks routinely and uncharacteristically fell apart at his feet. Part of the reason for Routledge's off-night was a strong showing from Malmo's Miiko Albornoz, and it was no surprise when the Swans' man was later withdrawn for Nathan Dyer.

In-between the two wide men, Michu and Bony spent an evening being mobbed by aggressive Malmo centre backs and midfielders who were asked to drop deep to nullify the Bony-M threat. Had just one of the Swans' wingers been on form however, Malmo's defense might yet have been undone.

Elsewhere, Chico Flores returned to the side and was his typical self, while De Guzman replaced Shelvey in midfield. De Guzman's set-piece delivery was poor and his comparative lack of physicality made Shelvey's absence all the more obvious but, like Pozuleo, this was his first competitive start of the season, so perhaps it's unfair to be too critical. At least De Guzman nearly scored late on, and ought to have earned a penalty.

One player getting his first start of the season and actually making the most of it was right back Jazz Richards. It is encouraging that Laudrup is prepared to give Richards -- a product of the Swans' youth system -- a proper chance before bringing in help from elsewhere. On Richard's showing, Laudrup won't need to ask scouts to find a new right back.

Richards was composed, looked good going forward and has some decent ball skills. What's more, he managed to impress while playing behind an unfamiliar face in Pozuelo. Left back counterpart Neil Taylor also made a start, and doesn't seem to have lost much after enduring a horrific ankle injury last season.

The draw wasn't a thriller, but it gave Laudrup a good chance to evaluate the depth of his squad while maintaining that four-goal lead. The Swans will have two competitive matches under their belts when Manchester United come to visit next Saturday, and a squad full of players who know they're in the frame for starts. So far, Laudrup's summer strategy seem to be paying off, but we won't know for sure until the big guns come to town Aug. 17.