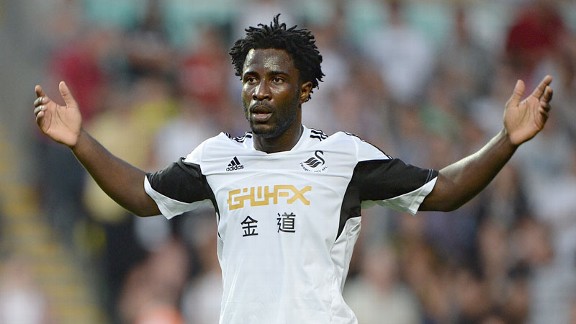 Michael Regan/Getty ImagesWilfried Bony has already made a difference at Swansea.
At the first time of asking, Swansea's new record signing Wilfried Bony more than proved he could live up to his 12 million pound price tag. Bony netted twice in the Swans' 4-0 demolition of Swedish side Malmo, and nearly completed a hat-trick on the last kick of the game. He didn't find a third, but the Ivorian sent some strong messages on Thursday night.

- Macintosh: Laudrup thriving in Swansea project
- Report: Swansea 4-0 Malmo

Firstly, a message to the Swans fans that their club's money was well spent. And secondly, a warning to the Premier League. Granted, Malmo might be below the level of the Swans' Premier League peers, but goals are goals and Bony took both of his with aplomb, generating impressive power in scoring a header from a lofted Wayne Routledge cross and being in the right place at the right time to sweep home a Michu deflection.

Bony's brace came after Michu had already opened the scoring by making the most of a defensive error to slot home a Routledge through ball. The Bony-Michu partnership already looks formidable; Bony's addition means Michu can play back in the hole where he's most potent, and in Bony, Michu now has a foil who can hold up the ball, absorb the attention of the opposing centre-backs and legitimately double Swansea's scoring threat.

However, the Swans' victory was far from a two-man show. All of the Swans' new first-team signings made an appearance. Jordi Amat started in defence in place of the injured Chico. Like Chico, Amat joined Swansea from the Spanish top flight. For a league predicated on skill, it's surprising how many Spanish defenders are made of the kind of stuff the English game was once built on -- toughness.

Although not as much of an extrovert as Chico (but then who is?), Amat seems equally capable of sticking his boot in and he marked his debut with a series of no-nonsense tackles at crucial times. I suppose it makes sense; these are players who used to face the likes of Barcelona every season, so they probably ought to know how to cope with dangerous forwards, and Amat did just that all night long -- just ask Magnus Eriksson.

Somewhere between Amat and the Bony-M double-headed scoring machine was another newcomer -- former Liverpool man Jonjo Shelvey. In a single performance, Shelvey redefined the Swans midfield. His five million pounds transfer is already starting to look like a bargain, and when I say Shelvey was 'somewhere' between the attack and the defence, I should probably say he was 'everywhere'.

Michael Laudrup might not have realised he was getting two players for the price of one when he bought Shelvey, but he seems to have done so, such was Shelvey's omnipresence against Malmo; it literally felt as though the Swans had 12 men on the field at times. One minute Shelvey acted like a piece of ballistic artillery firing off accurate 60-yard passes from deep, the next he was charging through the cowering Malmo defensive line like a snowplow, always threatening to shoot.

Shelvey's all-action performance is exactly the sort of thing which was absent from the Swans' game all of last season; with Shelvey on board, the Swans midfield now has some serious menace. Perhaps the guarantee of first-team football or being able to play away from the long shadows cast by Liverpool's big names have helped Shelvey, but Laudrup seems to have found a key piece to add to an already impressive squad.

Late in the game, yet another newcomer: this time it was Alejandro Pozuelo who entered the fray and saw his creditable enthusiasm rewarded with a goal following some sublime link-up play between Jonathan de Guzman and Bony. Laudrup also showcased holding mid Jose Canas, who might have to wait for a more challenging situation to show his particular skills.

Elsewhere, established starters Ash Williams and Ben Davies were excellent while Routledge continues to be the answer to a question Roy Hodgson should be asking: who's going to play left-wing for England? Routledge might be seen by some as an enigmatic, low-profile journeyman, but in Swansea he's found a new level. His creativity, deftness of touch, pace and array of passing are virtually unmatched, and the Bony-M goal machine wouldn't have been so potent Thursday night without his assists.

Final Thoughts:

Positives: New signings hitting the ground running. Bony getting off the mark in his first game. Bony-Michu chemistry clicks, without which the Swans might have 12 million reasons to panic.

Negatives: Bony not quite getting his hat-trick. When that's a negative, you know it's been a good night.