Bony waits, Moreno contingency plan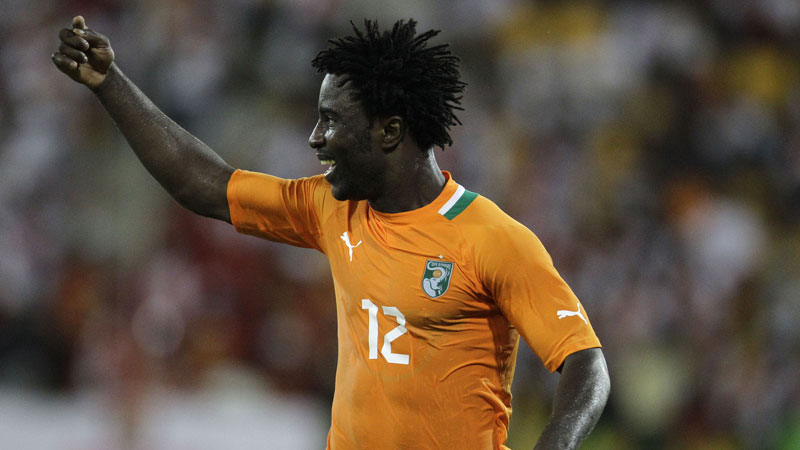 AssociatedWilfried Bony: Still waiting for paperwork to be finalised
The Swans pre-season preparations continued on home soil following the end of the Dutch tour - beating Yeovil Town 5-0 and Exeter City 2-0 - but Swans fans will have to wait a little longer to see new-signing Wilfried Bony and the hardest shot Garry Monk's ever seen in action.

Bony's work permit paperwork is delaying the striker's move, and whilst the Ivory Coast international has been allowed to train with former club Vitesse in the meantime, young Swan Rory Donnelly has picked up the slack up front. If nothing else, Donnelly has shown he knows where the net is (and how to put the ball in it), albeit against somewhat lesser opposition than the Swans will face in competitive matches.

- Swansea waiting on Bony permit

Whilst it seems unlikely Michael Laudrup will foist the responsibility of becoming Bony's understudy on the youngster just yet, Donnelly certainly seems capable of making a significant contribution to a lower league side this season. Perhaps a loan will see the rangy forward develop enough to become part of the first team next year?

A second striker is still on the shopping list then, and whilst Laudrup waits for a viable option to become available on the cheap, the rest of his squad appears to have gelled nicely, which means Arsenal's renewed interest in captain Ash Williams might yet throw a spanner in the works. Or more precisely, a Mexican.

Seven million pounds sits in an emergency suitcase awaiting dispatch to Espanyol in return for Hector Moreno, the rumoured replacement for Williams should Arsenal meet Swansea's hardball demand of £12 million for the centre half. Moreno adds an inch of height and three years of youth on Williams, which means if both deals happen, the Swans might well have upgraded the position at a profit of £5 million. So, just another day at the office for the Swans braintrust, who continue to re-write the book on how to run a small football club successfully.

With so much player flux in the Swans squad this summer, jersey number fans will have been hard pressed to keep up. Photographs from the early part of the Dutch tour suggested that defender Jordi Amat had taken number eight, which is slightly odd for a centre-half, but was the lowest available number at the time, whilst playmaker Alejandro Pozuelo appropriately assumed Danny Graham's vacated number 10 shirt. Midfielder Jonjo Shelvey started off with number two, which became available when Kyle Bartley was shipped off to Birmingham.

Since then, everything's changed. Amat will wear number five since Alan Tate won't be around much longer, which in turn means Shelvey has switched to the more midfielderly number eight. With Bony being the Swans marquee signing of the summer and de facto starting striker, he would have wanted Michu's number nine, but instead took the officially un-assigned number 10 from Pozuelo (although if Bony were to switch with Michu, each player would then be wearing the shirt number traditionally designated to their roles in the team). With Bony taking number ten, Pozuelo moved to number 24, which was previously worn by Ki Sung-Yueng, with Ki now sporting number 17 instead. Jose Canas will wear number 21.

Perhaps it's a nostalgic throwback, but I still consider the original jersey numbers, 1-11, as prestige numbers. It's probably more interesting to me than it should be that the number two jersey remains unclaimed, or that nobody wanted number eight last season. Some believe there has been a curse on Swansea City players to wear number 11, but Pablo seems to be doing a good job of breaking the superstition. If Williams does go to Arsenal, then there may (or may not) be interest from someone in claiming his number six, though whether that person is Hector Moreno, we'll have to wait and see.