Bony capture has promise, peril for Swans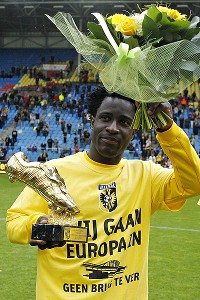 VI Images/Getty ImagesWilfried Bony's 31 goals made him the top scorer in the Eredivisie in 2012-13.
Arguably the most important signing of the Swans' summer has so far been the one to take the most time. Swansea's pursuit of Vitesse Arnhem striker Wilfried Bony finally looks set for success, with Bony's club said to have accepted an offer of 12 million pounds, with extras which could take the total up to 14 million.

It's a staggering amount of money for the Swans to spend -- twice the club-record fee, set last summer, and three times the price of Danny Graham, the last out-and-out striker bought by Swansea.

Of course, in Premier League terms, Bony isn't especially expensive. Michu will forever be remembered as among the best signings made by any team in any era of British football; it's naive to expect anyone to find another 18-goal scorer for what amounts to spare change in Premier League terms.

-Brassell: Eredivisie strikers a mixed bag

At this level, 12 million pounds is no longer spare change, but still represents an average fee for a good player and could be considered cheap for a successful striker. If Bony can show anywhere near the same ability in the Premier League as in the Dutch Eredivisie, he'll represent good value. His 31 goals in 30 league games is a phenomenal return, and although caveats apply regarding the step up in class to the Premier League, Bony need only score half as many to be considered a success in Swansea.

Holland has a peculiar track record when it comes to exporting strikers. The likes of Luis Suarez, Ronaldo (orginal) and Ruud van Nistelrooy all excelled in the Dutch leagues, but then so did Afonso Alves and Mateja Kezman. Alves' numbers for Heerenveen are similar to Bony's for Vitesse -- Alves scored 45 goals in 39 appearances, but could only manage 10 in 42 appearances for Middlesbrough in the Premier League.

Alves scoring rate of 0.23 goals-per-game for Middlesbrough is a far cry from the fantastic 1.15 rate he chalked up in Holland, but isn't far from the 0.33 mark which represents a decent return for an average Premier League striker. Graham hit a 0.33 rate for Swansea, but was a poor fit for Michael Laudrup's system and was sold.

Perhaps the biggest factor therefore in a striker's success is not how many goals he scored in a different league for a different team, or even in the same league for the same team, but rather his suitability to his team's playing style.

Bony's playing style ought to mesh well with Laudrup's system, which should go without saying given the reputation of the Swans' scouting department. The Ivorian is a physical handful with excellent poacher's instincts in the penalty area. Although he strongly favours his right boot, he also scores with his head, which will be a novel spectacle for Swans fans -- beyond Michu, nobody seems to score headers (but then, beyond Michu, nobody seems to score at all).

That's not to say Bony is a one-trick pony -- he's not afraid to use his left foot in a pinch, as this cheeky backheel demonstrates. Plus, fielding right-footed Bony with left-footed Michu behind him gives Swansea some useful attacking diversity.

It's clearly a gamble for Swansea -- 12 million pounds is a lot of money, and if Bony struggles, his resale value will hit the floor faster than Itay Shechter. Thinking positively, the Swans scouting department rarely gets it wrong, and Bony's job will involve playing in front of a midfield full of gun-shy precision passers. There's not going to be much argument over who to get the ball to in the final third.

Conveniently, the Swans are engaged in a preseason tour of Holland, which means that if the paperwork can be done in time, Bony can join up with the squad sooner rather than later... assuming this deal is eventually completed. It's not official as of this writing, but here's hoping.