Shelvey arrival signals more Swansea shuffling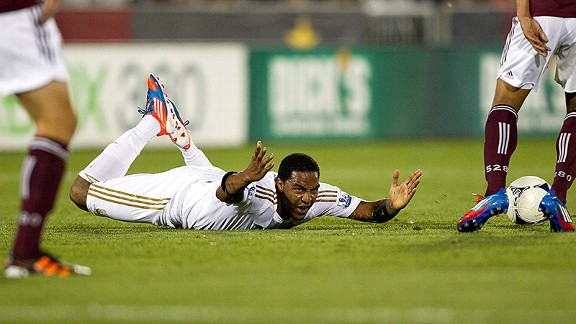 Justin Edmonds/Getty ImagesJonjo Shelvey's arrival likely means Kemy Agustien is on his way out of Swansea.
Jonjo Shelvey's light-speed arrival in Swansea has been met with mixed reactions from both Swansea and Liverpool supporters. The unexpected (and seemingly unpopular) move, which escalated from silly-sounding rumour to actual fact in a matter of days, might also spell the end for Kemy Agustien.

- Swansea chief: Ince fee 'staggering'

Agustien was one of four first team players to be left behind as the rest of the squad departed for a summer tour of Holland, which seems like an extra snub given Agustien is Dutch and might have relished a brief trip home. The other players not receiving first class tickets to next season were sidelined striker Luke Moore, exile-in-residence Leroy Lita and Swansea stalwart Alan Tate.

The only part of Lita's exclusion which might surprise anyone is that he was still a part of the squad in the first place. The striker spent a large chunk of last season on-loan, and seems likely to be offloaded permanently in due course, with Sheffield Wednesday the most likely destination.

Meanwhile, the clock finally seems to have run out for Tate. Michael Laudrup is presumably hoping the enhanced level of success he has brought to Swansea will be enough to placate the faithful, who will not want to see the long-standing Swan cut away from the squad like so much unwanted fat from Laudrup's increasingly delectable Danish bacon.

Luke Moore's exclusion seems harsh, especially given the squad's dearth of natural strikers. In reality, it is simply a continuation of last season's neglect, which saw goal-dry Itay Shechter routinely selected over statistically superior Moore. Laudrup's preference to play the Israeli over Moore says the overlooked forward ought to be wearing a different jersey at the start of next season, though whether he's sellable is another matter.

So, Shelvey is in, presumably at the expense -- and as a direct replacement for -- Agustien. Although Shelvey is an attacking midfielder by trade, it seems he will be re-trained to play one of the two deep midfield positions after all. He'll need to put in serious work on the defensive side of his game, but he'll feature more as a box-to-box midfielder than as a Canas-esque defensive mid. Shelvey has the engine and the work rate if nothing else. He also has a nasty streak and a short fuse, so it will be interesting to see how Laudrup manages him; Swansea aren't known for fielding fiery-tempered players.

Easily the most interesting facet of the transfer is the mixture of reactions from the fans. From the Liverpool side, there are those who wish Shelvey well, and those who are laughing that the Swans paid five million for him. From the Swansea side, there seems to be an 80/20 split, with the negative majority a mixture of the undecided, the cautious and the openly concerned, while the positive minority are apparently more than a little familiar with Football Manager.

I've said it before, and it's probably worth reiterating here. If nothing else, this deal has effectively seen Brendan Rodgers take a year to swap Joe Allen for Shelvey at a loss (and profit to the Swans) of ten million pounds. Before Shelvey even kicks a ball in Swansea whites, I still think that's a pretty good deal. Of course, we won't know for sure until we see him play.