Busy Swansea summer continues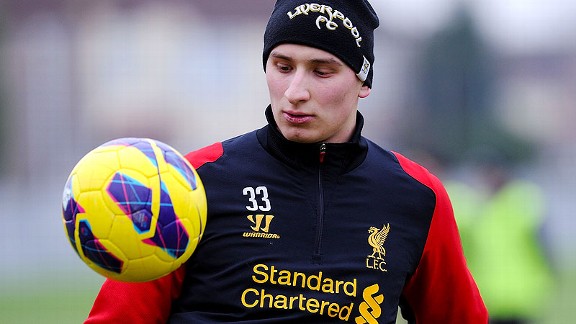 John Powell/Liverpool FC/Getty ImagesJonjo Shelvey is one of many names strongly linked to Swansea.
Early suggestions that Swansea might be dragging their heels in the transfer market this summer would appear to have been premature. The Swans have made three signings, have a fourth about to complete and are being heavily connected to at least three other high profile players.

Swansea confirmed a second season-long loan stint for set-piece specialist and sometime scorer Jonathan de Guzman this week. With Alejandro Pozuelo also set to join (his wikipedia page already lists him as a Swans player even though the deal has yet to be officially announced) and interest in Liverpool's Jonjo Shelvey moving quickly from rumour to fact, it seems De Guzman will face more competition for a starting spot next season.

- Swansea confirm Shelvey interest

At this stage, it looks like the Swans' intention is to play with a decidedly attack-orientated midfield. The acquisition of Spanish destroyer Jose Canas will inject some defensive acumen into one of the holding positions, but past the Spaniard's steel and Leon Britton's ball-thievery, you wouldn't back too many of the other midfielders to win a 50/50 ball.

Last season, Ki Sung-Yueng's world-class long-range shooting ability was completely under-exploited as a direct result of having the midfielder play deep because no one else could. If Ki could tackle as well as he can evidentially rip off a 30-yard howitzer, that might not be such a big miss, and the mooted midfield reinforcements aren't going to simplify the situation.

Shelvey is generally an abhorrent tackler, and Pozuelo is all skill and flair without size. As attacking options, both players are potentially exciting prospects, but in no way appear suitable for either of the two deep positions. With Michu likely to be first choice to play behind the striker, it seems De Guzman might be forced into playing deep himself, which does not play to his strengths.

It might be that Michael Laudrup is content to play with only three or four defensive players in his starting eleven. After all, this is the way the Spanish national side plays, but Swansea are not quite in the same class as the World Champions. Against better or bigger sides, the Swans will need more muscle in midfield. Maybe Kemy Agustien will have a role to play after all?

Meanwhile, the Swans are addressing their biggest positional weakness -- striker -- with bravado. It is hard to determine whether the plan is to purchase both Bafetimbi Gomis and Wilfried Bony, or just whichever one manages to put pen to paper first. Given the scale of the transfers -- between eight and ten million pounds each -- I would be inclined to suggest the Swans will only look to secure the one signature. However, it is possible the Swans are serious about buying both, which would be a particularly strong statement of intent.

Elsewhere, Swans chairman Huw Jenkins has also admitted interest in FC Twente winger Nacer Chadli, said to be valued at eight million pounds, while those Tom Ince rumours have resurfaced. If the Swans were to sign Shelvey, Gomis, Bony and Chadli to go with Canas, Amat, De Guzman and Pozuelo, they'd be looking at a transfer bill in excess of 34 million pounds, and that's not considering wages. Not bad for a side whose board was apparently at odds with its manager over transfer funds.

It'll be very interesting to see how the Swans' summer dealings pan out and how the midfield copes with the rough and tumble bottom half of the Premier League next season.