Swansea keen on Bony addition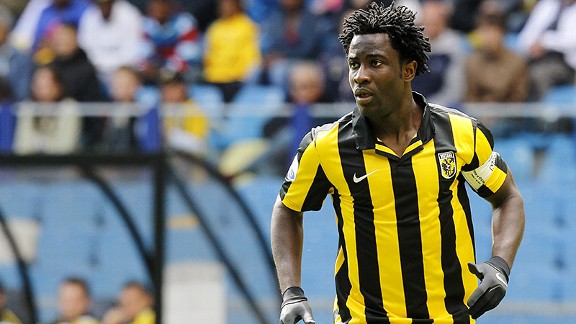 Getty ImagesWilfried Bony amassed 31 goals in 30 games last season for Dutch side Vitesse.
With the Bafetimbi Gomis deal rumoured to have broken down over salary demands, the Swans have wasted little time in turning their attention to Ivorian striker Wilfried Bony. While a deal for the free-scoring Vitesse striker looks imminent, the Swans' defence also appears set for a boost with the likely arrival of Jordi Amat. Meanwhile, the midfield might benefit from unexpected interest in Liverpool's Jonjo Shelvey.

Wilfried Bony
Like Gomis, Bony should be a good fit for Michael Laudrup's single-striker system. At six feet -- the same as Gomis -- he's not especially tall, but he's capable of scoring with his head. Bony is also physically strong, which has to be considered a pre-requisite for a lone frontman, and his staggering 31 goals in 30 games for Vitesse in the Dutch Eredivisie last season is a good reason for Swans fans to get excited. If Bony can produce half that in the Premier League, he'll be a sound investment, although for ten million pounds -- the rumoured fee -- the expectation will be for more.

- Swansea 'optimistic' over De Guzman

Bony shouldn't struggle for service, and a full slate of talented attacking midfielders will provide opportunities and auxiliary scoring. Michu ought to be afforded more space and time playing behind another equally potent teammate and a return to the hole, where he plays best, will suit all involved.

On paper, Bony is an enticing prospect. The Swans will pay top dollar to get him, so there'll obviously be pressure on the striker to perform straight away. As the single big signing Swansea will make this summer, there is a case to be made that the Swans' fortunes next season will depend on the success of this deal.

Likelihood of a deal: 8.5/10. Many sources are saying this is a done deal, but Bony is a man in demand. He'll become the Swans' record signing by some margin if he joins, and given the magnitude of this signing, I'm reluctant to say it's done until it's done.

Jordi Amat
I wrote about Amat last time out, so I won't spend too much time here other than to say it appears the Swans have had a two million pounds bid accepted by Espanyol for the centre back. The last Spanish centre back the Swans signed worked out pretty well, so here's hoping Amat can continue the trend.

Likelihood of a deal: 9.8/10. Assuming the rumours are true, and barring a last-minute breakdown over personal terms or an eleventh-hour bid from elsewhere, this one looks set to happen.

Jonjo Shelvey
This one's a surprise. Admittedly, I don't follow Liverpool as closely as the Swans, but it looked to me that Shelvey was part of Brendan Rodgers' future plans. I know Reds fans might have been frustrated with him at times -- particularly his poor finishing -- but as an attacking midfielder, finishing isn't necessarily that important. Now that Liverpool appear to have money to spend, it might just be Shelvey isn't quite good enough for a big six side. Yet.

The fact that Laudrup's Swans are interested in signing a player deemed surplus to requirements by Reds boss and former Swan Brendan Rodgers possibly illustrates the evolution the Swans have undergone since Rodgers' reign. For five million pounds -- the price Shelvey is said to be available for -- I might like to see what he can offer. I'd imagine he could do more for the Swans than Joe Allen has done for Liverpool.

Likelihood of a deal: 4/10. The Swans need more steel in midfield before they need another playmaker, not to mention another centre back, a second striker and -- if Dwight Tiendalli leaves -- another fullback, too. However, sometimes in sports it makes sense to sign any good player that becomes available for a good price regardless of positional need. As good as Allen was for the Swans, if this deal happens it means Rodgers has effectively taken a year to swap Allen for Shelvey at a loss of ten million pounds. I think I know who's winning that one.