Welsh derby dates highlight Swans' fixture list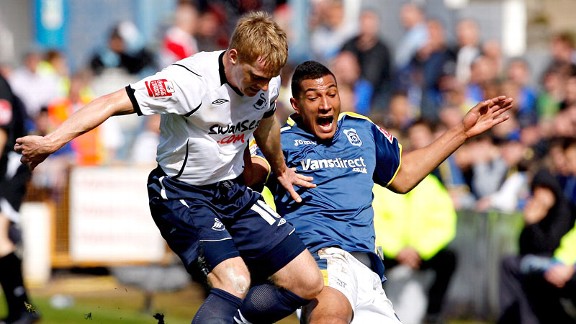 Stu Forster/Getty ImagesSwansea will square off against Welsh rivals Cardiff for the first time in three seasons.
The two most anticipated dates on next season's fixture list are those of the South Wales Derby, Swansea versus Cardiff. On Saturday November 2nd, Cardiff City will host the Swans in the first of the coming season's two derby matches, with the return fixture at the Liberty coming on Saturday February 8th.

- Premier League fixtures

It is interesting that both games have been initially scheduled as Saturday fixtures -- I had anticipated the derby being given prime Sunday billing for television coverage. It might just be that the FA is a little wary of televising a game with the potential to become ugly. After all, this is a match in which referees have been known to make dubious penalty decisions to keep some semblance of peace between the supporters by ensuring a draw.

In fact, had the South Wales derby not always been an exclusively lower-league concern, the game might rank as one of World football's most heated clashes. It might be baffling that fifty miles of motorway could cause such a division, and ironically, as the derby is finally set to take place on a stage big enough to garner widespread recognition, there are suddenly questions about its potency.

It will have been three seasons since these sides last met, and both teams have radically changed since then. For Swansea, the steep learning curve of the Premier League has put years of experience on those players who remain from the Championship days, while many new faces (and a new manager) have accelerated Swansea's evolution from plucky newcomers playing pretty football to a polished Premier League outfit who can hold their own against the biggest and best.

Cardiff's Malaysian owners meanwhile have whole-heartedly transformed their side, notoriously and controversially changing the club's colours and crest, while ushering in a new manager and an influx of new players of their own. Many of Cardiff's most ardent supporters -- a large portion of those for whom the rivalry meant the most -- have been alienated by the new regime, staying away from the terraces and not renewing season tickets for the first time in years.

It remains to be seen how many of these fans get behind Cardiff as a Premier League side, but I know some Cardiff City fans personally who say their club's promotion means nothing to them; at best they'll watch Cardiff's Premier League exploits with a sour glance of jaded, waning interest. This won't be the case across the board, of course, but with both sides now completely unfamiliar to each other, and full of players with no ties to either city, I wonder how sincere this rivalry can be. Perhaps it'll be for the best if the focus is actually on the football for once.

The derby distraction aside, Swansea will need to be wary heading into the season, and doubly so in the new year. The Swans are set for their toughest start to a campaign since joining the Premier League, with four fixtures against big six sides in the first six games. Swansea will face Arsenal and Liverpool at home and Spurs away, but only after opening the season by hosting Champions Manchester United.

The United game is a double-threat; not only are United always the toughest team to beat in the Premier League, but new boss David Moyes is a bogey manager for Swansea. Last season, Michael Laudrup successfully neutralised both threats, earning credible draws against United and Moyes' Everton. Now he'll have to repeat (or better) the trick ostensibly against both at once.

If there is some solace for the Swans, it is that the first few weeks of the season typically bring inconsistent results from nearly every side. Moyes will be under pressure to get a result in his first competitive match as new United manager, and although the winning culture ingrained throughout the United squad will give him a generous buffer, a favourable result is by no means a given.

Likewise with the Swans other early season adversaries: Spurs might yet be without Gareth Bale. Brendan Rodgers will likely be bedding-in a new-look Liverpool squad following last season's underwhelming campaign. And Arsenal will continue to be Arsenal, although possibly with Swans' acting captain Ash Williams an expensive stud in their defence (or on their bench).

In January, the Swans will have to dig deep to fight off three big six sides in a row after an exhausting December: six games, not including cup commitments. These two troublesome stretches aside, the fixture list has mostly been kind, although with European commitments also on the slate, Laudrup will have to get maximum use out of every player on his small squad to succeed.