Stability in place even if Laudrup leaves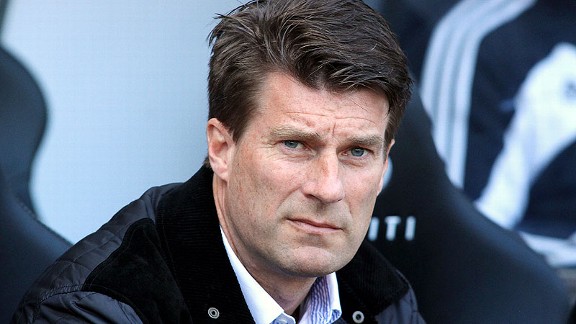 GEOFF CADDICK/AFP/Getty ImagesSwansea has the infrastructure in place to easily overcome a potential loss of manager Michael Laudrup.
Another day, and seemingly little change in the supposed stalemate between Michael Laudrup, his agent Bayram Tutumlu and the Swansea board. This summer's early saga is far from what Swans fans might have anticipated, and even further from what anyone wanted.

If there's no smoke without fire, then I'm inclined to suggest there isn't even any smoke in this situation. So far, we have been led to believe Laudrup is frustrated at the lack of transfer activity, even though the transfer window doesn't open for another fortnight and few teams have started to refresh their squads in earnest.

We've been told how Paris Saint-Germain have an interest in Laudrup, but why should this be news? PSG are a side with an impending managerial vacancy, and it makes perfect sense that Laudrup might come under consideration following the spectacular success he made of his first year in South Wales. Interest alone does not reliably precipitate movement.

- Laudrup tipped for PSG job

We're told how Laudrup is a fan of extravagant PSG talent Zlatan Ibrahimovic, as though an unsurprising appreciation of an obviously exceptional player somehow equates to mutual interest in the managerial vacancy. PSG have money to spend, and in Ibrahimovic, one of world football's most interesting superstars. Of course the vacancy is attractive, but once again, there is nothing here to suggest Laudrup should be considered favourite.

Apparently, the backroom breakdown in relations at the Liberty is exclusive to Swansea chairman Huw Jenkins and Tutumlu, with Laudrup seemingly an embarrassed passenger trying his best to distance himself from the situation. Apparently, Tutumlu has attempted to force his way into Swansea's transfer business by pushing for Ash Williams to be sold and by submitting his own list of preferred transfer targets.

It's likely just another case of an agent pushing for more power, a dynamic which has been a constant backdrop to almost every move made in world football over the past decade or more. Jenkins's dispute with Tutumlu is surely a commonplace difference of opinion, and yet the story has been magnified to a farcical extent. Until Laudrup moves, there is no story, and if Laudrup stays, then there never was a story.

It is difficult to ignore how much of the flame-fanning has come from the heart of the Welsh media, centralised in the Welsh capital, Cardiff. Swansea's arch rivals finally earned their own promotion to the top flight last season, and with the playing field now levelled on paper at least, it seems certain voices in the Welsh media are more than happy to stir up some unrest for their neighbours.

You won't find many stories coming from the Welsh media which cast doubt over Cardiff City's chances of staying in the top flight next season, and yet surely that challenge is greater than any which Swansea will face, even if Laudrup does leave. In case anyone has forgotten, Brendan Rodgers left this time last year, and things worked out well enough.

As it was for Swansea, the first priority for Cardiff now is to retool the side with players who can make the difference at Premier League level, but there have been precious few signings in the capital, either. And while few signings in Swansea apparently indicates unrest, the same situation in Cardiff simply means management is taking it's time and 'doing things right'.

It's not just the Welsh media, either. Bookmakers continue to slash the odds of Laudrup leaving, making him the present favourite in the so-called sack race. But when the favourite doesn't win, who does? The prospect of Laudrup leaving suits a lot of parties, and makes for provocative copy, but there is still far too little substance to the story.

And if it all turns out to be true? The Swans appoint Morten Wieghorst or Gus Poyet as the new boss, and carry on as before. This is a side with its own cultural identity in the football world. A side which has endured four managerial changes in five years, not missed a beat, and even improved results each year. Jenkins is the architect of the Swansea City machine, and when one cog fails, another one of compatible shape and function is installed and the game goes on.

Whether there is actually any fire or any smoke is academic. So long as the Swans board continues to run the show to their design, it won't matter if stories about 'unrest' fill column inches that might better have been left blank. There are reasons behind the Swans success. It is no accident. And the ten million pounds release fee inserted into Laudrup's contract extension is a little reassurance that whatever happens in this situation, the Swans still win.