Canas signing rebuts rumours of unrest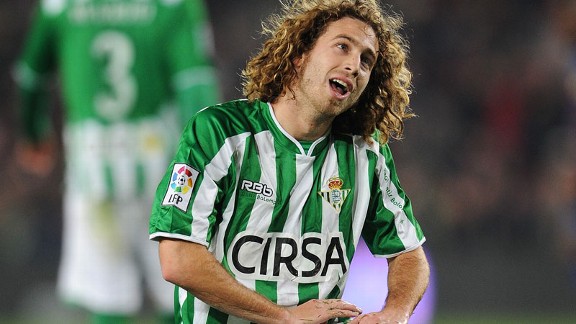 GettyImagesJose Canas: Expected to join Europa League-bound Swansea in summer
Amidst rumours of unrest behind the scenes, Swansea City have made their first major move of the summer, signing impending free agent Jose Canas from Spanish side Real Betis. The move had been in the offing since last January, and while Canas' addition to the squad ought to surprise nobody, Swans fans will at least be encouraged that the talk has come true.

There is more talk which Swans fans will hope doesn't come true; that of Michael Laudrup leaving the Liberty owing to disagreements over transfer targets and the amount of money the club should be spending on new players. In an echo of similar rumours of locker room unrest from last September, there seems to be no real substance to the speculation.

Laudrup has casually mentioned how he feels a 200-million-pound investment is what it would take to push Swansea into top six consideration. However, by no means did he imply that he expects that kind of money to be made available. Laudrup was simply delineating the difference in financial stature between the Premier League's biggest clubs and Swansea City.

After an immensely successful first season, Laudrup is under pressure to further advance the Swans' cause next season, so it makes sense the manager took time to explain the impossibility of mounting any serious challenge to the British elite. His statement was nothing more than a reality check for fans who might have understandably allowed themselves to get carried away with their expectations heading into next season.

Laudrup has also stated on several occasions that his ambition for next season is simply to consolidate Swansea City as a Premier League side. In other words, to become a perennial mid-table team, and a regular fixture in the top flight, an ambition which surely matches most Swans fans appraisal of the side's capability. It seems like a decade ago, rather than just two years, that the Swans first entered the Premier League, hoping only to survive. Two unexpectedly successful finishes have set a high bar; Laudrup is merely trying to level expectations with reality.

Adding fuel to the rumour fire is Liverpool's apparently successful pursuit of Swansea target Iago Aspas. The Swans made an attempt to sign the striker last January, and many see the Swans failure to capture Aspas as evidence of a split between Laudrup and the Swansea board over transfer fees. However, that's surely ridiculous.

The Swans spent 3.5 million pounds on Danny Graham their first season in the top flight, 5.5 on Pablo Hernandez and the same on Ki Sung-Yueng in their second. Matching Liverpool's 7.5-million-pound offer for Aspas seems like par for the course, an amount in line with the inevitably escalated spending of a new Premier League side.

Surely the reason the Swans missed out on Aspas is nothing to do with supposed disagreements and everything to do with the fact Liverpool are one of Britain's big six sides and Swansea aren't. It can't be surprising that a young striker chose the bigger club, can it? Swansea city made an official statement earlier Thursday to the effect that the rumours of unrest are completely unfounded, and that everyone is on-side with the club's transfer strategy. Having seen nothing to contradict that statement, I'm not worried Laudrup will leave this summer.

The Dane started putting some building blocks in place last season, bringing in players he was familiar with from previous clubs. He won the right to compete in Europe, a challenge which he'll no doubt be eager to meet. Most of all, Laudrup still hasn't enjoyed a long, successful tenure at any club as a manager, and has reportedly fallen out with the board of more than one organisation.

Assuming he'll eventually move to a big club (Madrid or Barcelona seem likely), it won't hurt his reputation as a manager to prove he can commit to a cause and bring success to a side, and enjoy a solid working relationship with the board while doing it. I have little fear that there is any genuine discontent at Swansea, and faith that Laudrup and the Swans board will bring the right players to the squad. The offseason is young, and the transfer window won't close until August 31. It doesn't even open for another three weeks. Knee-jerk panic about 'lack of transfer activity' at this stage seems ludicrous.

The Swans have at least set the ball rolling with Canas. If Aspas might have chosen the bigger club, Canas allegedly turned down twice the salary from a bigger side solely to come to Swansea and play for Laudrup. With that kind of excitement around the club, and his project only just off the ground, why would Laudrup leave now?