Swansea season roundup: Strikers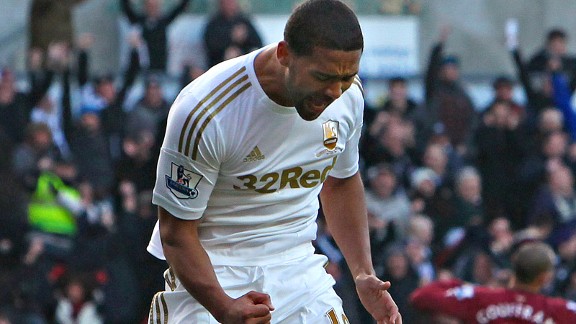 Geoff Caddick/Getty ImagesStriker Luke Moore finished with three goals during the 2012-13 season for Swansea.
In the seventh and final part of my Swansea City positional season recap, I'll be looking at the Swans' strikers. I discussed the Swans' top scorer Michu in my last blog which dealt with attacking midfielders, as technically speaking Michu is not a striker. Beyond Michu and Danny Graham, who was sold in the January window, the Swans' depth up front was thin. Today I'll be looking primarily at Luke Moore and Itay Shechter.

Shechter joined the Swans at the start of the season on loan from FC Kaiserslautern of the German Bundesliga, ostensibly to give the side depth without financial commitment while new boss Michael Laudrup evaluated his players. Despite the sale of Danny Graham halfway through the campaign, Shechter never really got much of a chance. Laudrup instead exploited his wealth of attacking midfielders to cover for Michu, who he preferred over both Shechter and Moore to cover the striker vacancy .

Shechter's only goal for the Swans against Wigan in a late season 3-2 victory at least gave the Israeli international one good moment to remember and be remembered for. Until that strike, there had been a very real danger Shechter might only be remembered as a man who fell down a lot, or was too often found on the wrong side of a sea of defenders in the attacking third.

In all honesty, Shechter's skill set just wasn't suited to playing the lone striker role in Laudrup's system. As a poacher in a two-striker system, getting on the end of knock downs and so on, he might do a lot better. Laudrup clearly saw something in the player though, and the Dane has hardly missed in terms of talent evaluation since joining Swansea.

Standout stat: 155 minutes per shot. Perhaps the best evidence that Shechter struggled to involve himself in the Swans' game plan is this figure -- it equates to just over half a shot per game based on the minutes Shechter played. In comparison, Michu took a shot every 34 minutes, Moore every 37 and Graham every 39. Ash Williams wasn't too far behind Shechter with one shot in every 175 minutes, and he's a stay-at-home centre back.

Despite Shechter's struggles, he still ended the season having played more minutes than Moore. Considering Moore was on a contract at Swansea, not on loan, and therefore might have a longer term future at the club, some fans asked questions when Laudrup chose to start Shechter instead, particularly when Moore scored more goals.

Moore finished the season with three goals to Shechter's one, and while that might not seem like many, it was good enough for joint third on the Swans roster (tied with Graham, Angel Rangel, Nathan Dyer and Pablo Hernandez). He also got those goals in just 526 minutes of action, or just under six complete games worth.

The leisurely pace at which the burly Moore appeared to meander around the football pitch masked the striker's sharp technical ability. Of the 21 shots Moore took last season, six were with his left foot, ten his right and five his head, demonstrating that Moore is a striker capable of scoring (or shooting at least) in all ways. Out of contract this summer, there remains the possibility Moore will re-sign with Swansea, although given Laudrup's pursuit of new strikers and Moore's demotion behind the ineffective Shechter in last season's pecking order, it seems unlikely he'll stay.

Standout stat: 71 percent shooting accuracy. Although not first on the team overall (that plum fell to Rangel with 76%), Moore led all listed strikers for shooting accuracy (Shechter had 50 percent, Graham 61) and also bettered top scorer Michu (39). For the minutes he played, his stats are strong. I wonder what he might have achieved given more opportunity.

That's it for the Swansea squad roundup. Over the next few blogs, as we approach the time of year when contracts expire and the summer transfer window opens, I'll be focusing on transfer rumours and new signings.