Swansea season roundup: Wingers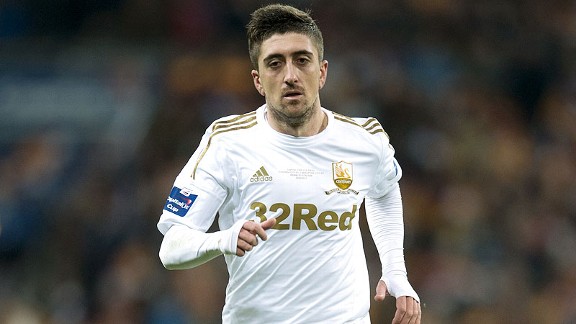 Adrian Dennis/AFP/Getty ImagesPablo Hernandez enjoyed an overall solid first season at Swansea after joining from Valencia last summer.
In the sixth part of my Swansea positional breakdown for the season, I'm looking at wingers. Following the early season departure of Scott Sinclair to Manchester City, Michael Laudrup moved to bring former Valencia winger Pablo Hernandez in as a replacement to supplement incumbent wide men Wayne Routledge and Nathan Dyer. Although Roland Lamah later joined the club on loan, he didn't play enough to feature here.

- Laudrup suggests Williams may be sold

Although promising that Swans fans will see the best of him next season, Pablo has actually had a pretty decent first season in South Wales. He took a little while to fit in, and many were scared the five million pound man would be a bust on the early evidence.

However, Pablo has since acclimatised to the Premier League, and although a little inconsistent in his first campaign, when he was on form, he was hard to ignore. Pablo ended the season as the joint top assist producer among Swans players, with six. While Jonathan de Guzman also chalked up six assists, three of his came from set-pieces; Pablo manufactured all six of his chances purely during open play.

Curiously, Pablo also led the team in the number of corners won, with 30. If the Swans had managed to find a way to use attacking corners effectively this season, Hernandez's contribution here might have been more significant. Pablo also led the team in penalty area entries (108). It is still remarkable that the Swans were not awarded a single penalty all season, but Pablo at least gave opposing defences plenty of chance to provide one.

Standout stat: 17 total through balls (nine of which were accurate). Pablo leads the team in this category, with Michu next best with 12/three. Pablo was asked to play all across the attacking third this season -- left wing, right wing and centrally -- and it is a testament to his reading of the game that he has been able to consistently provide dangerous passes from multiple positions.

If Pablo had a decent first season, then Routledge had an exceptional second. Brought to the team last season by former boss Brendan Rodgers and used primarily in an auxiliary role, Laudrup's arrival provided a fresh start for Routledge. The enigmatic winger frequently showed the best form of his career this season, carving out a place on the left wing and showing flashes of the same kind of baffling creativity Laudrup himself was once so famous for.

Routledge, who had never previously scored in the Premier League in over 100 games with various clubs, found the net five times under Laudrup's watch and finished the season as Swansea's joint second top scorer with Jonathan de Guzman. He also finished as Swansea's second best marksman, with a lethal 74 percent shot accuracy, just behind -- bizarrely enough -- Angel Rangel's 76.

Standout stat: 51 chances created in open play, best on the team. Routledge also created nine clear-cut chances, again best on the team. Given a lot of game time and what one can only assume is a big confidence boost from the boss, Routledge came into his own this season, becoming Swansea's most dangerous creator in open play with a limitless array of clever passes, no-look flicks and outside of the boot brilliance.

On the right wing, Dyer had to give up some of his game time this season after featuring heavily during the last. Laudrup rotated Dyer frequently, first to accommodate Pablo then later to allow Rangel to move further forward. The fast winger also saw limited action as a striker, typically late in games following substitutions. While Dyer's finishing has improved this season (he scored three goals), he still lacks enough polish to convince as a front man.

Dyer's usual game- - dribbling at his man in attack, committed to winning the ball back in defence -- hasn't changed much under Laudrup. Dyer was as defensively robust as ever, leading the team in total ground duels (308) and ground duels won (143), and also led the team in dribbles attempted with 95.

Standout stat: 70 fouls won. Dyer was by far the most-fouled player on the Swans' squad this year, with De Guzman coming a distant second with 46. Needless to say, where there's a foul, there's a free kick, and given Dyer is an attacking player, that usually means a free kick in a threatening area. If only he'd dribble into the box a little more often rather than down the right touchline, the Swans might yet get that elusive penalty kick.

Next time, I'll be looking at the Swans' strikers.