Swansea season roundup: Attacking midfielders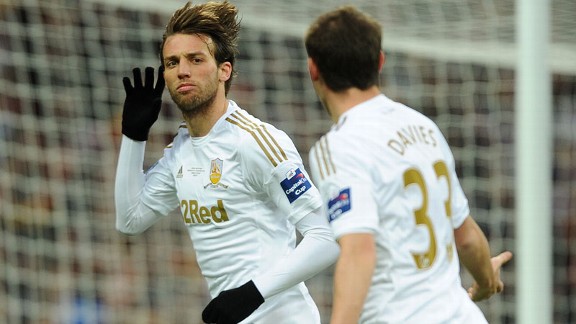 GettyImagesSwans fans will be hoping Michu will be back to his attacking midfield spot next season.
In the fifth part of my Swansea season preview, I will be looking at the Swans attacking midfielders. In Michael Laudrup's flexible system, wingers such as Pablo Hernandez and Wayne Routledge have lined up in the hole, as have Jonathan de Guzman and Michu.

• Swansea season roundup: The goalkeepers
• Swansea season roundup: central defence
• Swansea season roundup: full-backs
• Swansea season roundup: central midfield

However, in this article I will be concentrating on De Guzman (who also saw action in deep midfield) and Michu (who was shunted forward to play as striker for the latter half of the season), because both players played their best football in the attacking mid spot. Hernandez and Routledge will be discussed next time, when I'll concentrate specifically on Swansea's wingers.

Despite being frequently and erroneously described as a striker, Michu himself has stated his preference for being played behind the main striker. In fact, Michu recently re-iterated his desire ahead of the summer transfer window, hoping - along with Laudrup and the entire Swans faithful - that the side will sign at least one dedicated striker this summer.

The misapprehension over Michu's position is a direct result of his prolific goal output - 18 goals in a Premier League season would be a good return for any out-and-out striker, and is six better than last season's leading scorer - the since sold Danny Graham.

However, the Spaniard scored two thirds of those goals in the first half of the season, when he was mostly used as an attacking midfielder. Following the late January departure of Graham, Michu's output dramatically dropped when he was re-appropriated as the Swans lone striker, a position which actually negates Michu's best strengths - his long range shooting, off the ball movement and uncanny ability to find space, typically by arriving late in the box, without being tied up under blanket coverage from two centre backs.

Standout stat: 8 - the number of (favourable) key attacking statistical categories in which Michu leads all other Swansea players. They are Goals Scored (18), Total Shots (110), Shots on Target (34), Blocked Shots (22), Clear-Cut Chances Scored (12), Headed Attempts (28), Shots After Counter-Attack (7) and Hit Woodwork (5). With a supporting cast of devoted but gun-shy playmakers, the job of actually posing a goal threat fell to Michu, who seems happy enough to have taken it on. The corollary to Michu's attacking dominance is that the Swans now need a devoted striker to spread the burden, or risk finding goals much harder to come by next season.

Following Michu's somewhat forced 'promotion' to striker, the player most often leaned on to slot in behind was De Guzman. The versatile midfielder also saw significant time in a deep role, particularly after fellow midfielder Ki Sung-Yueng's late season injury.

As an examination of the Swans deep midfielders revealed in my last blog, De Guzman finished second only to Leon Britton for the number of possessions won in the middle third of the field. And although De Guzman rarely seems convincing in the tackle, his 87 percent win rate is actually joint first with Britton among the Swans players. Nevertheless, De Guzman's best games came when he was played in the attacking mid spot, behind the striker (typically Michu). His five Premier League goals represent useful auxiliary scoring, and his set-piece delivery is a real asset.

In many respects, the Swans actually have a positional log-jam at attacking mid. Laudrup's formation utilises only one central attacking midfielder flanked by a winger either side to form the '3' of the 4-2-3-1. But the team has three players who might play their best football there - Michu, De Guzman, and potentially Ki Sung-Yueng. That's not even including Pablo or Routledge, who have also played the position well this season.

Since Laudrup's system asks it's wingers to cut inside rather than hug the touchline, I wonder if, in the right circumstances, he might consider starting all three - Michu, Ki and De Guzman - as the attacking '3', behind a new striker and in front of, say, Jose Canas and Leon Britton. Against teams with strength at full back but suspect central defenders, this might yield results and also adds size to the attack. This is assuming De Guzman can be bought - he was on loan all of last season - and there's no guarantee of that yet.

Standout stat: 402 successful final third passes. De Guzman leads the team here; Pablo was second with 376. In addition, De Guzman also boasts the most accurate forward zone passes with 1037, (Angel Rangel's 822 was second) and final third entries with 256. His incision in the attacking third and desire to get forward makes De Guzman a natural choice for attacking midfield. If he stays ... does that create a selection dilemma with Michu?

Next time, I'll be looking at the Swans wingers.