Swansea season roundup: central midfield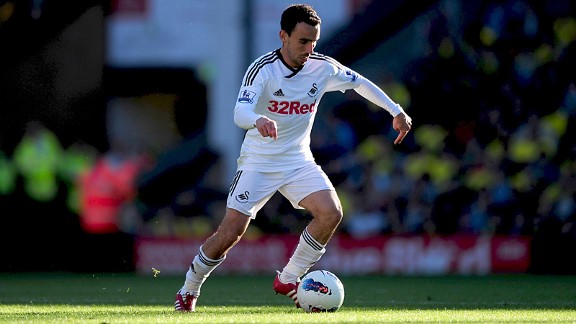 APLeon Britton has won 115 possessions in the midfield third.
In the fourth part of my Swansea positional roundup for the season, I'll look at the Swans central midfielders. For clarity, central midfield in this article describes the two deep midfielder positions - the '2' in Michael Laudrup's 4-2-3-1 formation.

• Swansea season roundup: The goalkeepers

• Swansea season roundup: central defence

• Swansea season roundup: full-backs

So, Leon Britton, Ki Sung-Yueng and Kemy Agustien will feature, Jonathan de Guzman will not. Although De Guzman played a number of times in this position, he was also used extensively in the hole as a central attacking midfielder. For this series of articles, I will treat De Guzman, along with Michu, as attacking midfielders - the position from which both men played their best football. Separating the players in this way also allows me to divide the squad into concise, manageable sections.

Perhaps the secret key component of the Swansea game, Britton enjoyed a big season, passing the 400 games milestone on the field and fathering twins off it. Due to some minor injuries, Britton sat out a few more games this season than last, and his absence was generally felt. When Britton didn't play, Laudrup used a partnership of Ki and De Guzman, with mixed results.

The likely arrival of defensive midfielder Jose Canas this summer will fortify the Swans midfield. More than mere reinforcement, however, it could be that Laudrup sees Canas as a player able to replicate Britton's role in the starting XI - a task of which no other Swansea player has so far proven capable. Canas won't replace Britton outright of course, but he should allow Laudrup to rotate Britton to keep him fresh, or to play both Britton and Canas in response to opponents with strong attacking midfield units.

Standout stat: 115 possessions won in the midfield third. Britton's ability to pick off passes and steal the ball from opponents in the middle of the park is highlighted here. He is best on the team by some margin - only one other player hit triple figures in this category (De Guzman, with 104).

Britton's partner in deep midfield for large parts of this season was newcomer Ki Sung-Yueng. The Korean moved to Swansea from Celtic, where he had been employed in a more attacking role. Many Swans fans have been disappointed not to see Ki afforded the opportunity to take more long shots since joining the side - if YouTube footage is anything to go by, Laudrup is missing a trick by not employing the midfielder in an attacking role instead.

In fact, it could be argued that in bringing both Ki and De Guzman to the Liberty, Laudrup brought two attacking mids where one attacker and one defensive-minded player might have represented a better balance. As a result, Ki got the shorter straw and had to slot into the deep position, whilst De Guzman was often given the attacking role. It seems baffling that Laudrup didn't experiment by playing Ki in the hole even once this season; the Korean was even used in central defence once or twice.

Despite often looked lackadaisical, the stats suggest Ki has nevertheless become a valuable part of the Swansea system, although with his eye for a through ball and that excellent long shot, I would still love to see him played further forward at some point in the future.

Standout stat: 92.71 percent passing accuracy. Ki's impressive figure wasn't just best on the Swansea squad, it was the best across the entire Premier League. Even more impressive is Ki's consistency - he hit that figure whilst dishing out 1618 passes, good for 71 per game given the minutes Ki played.

Agustien hasn't had the season he probably wanted. The Dutchman spent a lot of time in the treatment room, only managing four starts all season, and missing his chance to properly push for a regular starting berth. Agustien remains an interesting player; on his day, he boasts the best long pass on the team with the vision to use it, and although not an aggressive tackler, his physical presence is still a tangible asset few other players bring to the side. However, in his limited appearances this season, Agustien has lacked consistency. If he could find a way to always play to his best, it'd be that much harder to leave him out of the side.

Standout stat: 14 substitute appearances, most on the team. Very much playing the part of super-sub for the Swans this season, Agustien appears to have a role as late relief at least.

Next time, I'll be looking at the Swans attacking midfielders.