Swansea season roundup: full-backs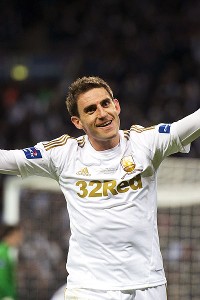 Adrian Dennis/AFP/Getty ImagesAngel Rangel had stunning progress on the attacking side thanks to Michael Laudrup's guidance.
In the third part of my Swansea season recap, I'll take a look at the full-backs. Angel Rangel had a memorable season, not only putting in consistent performances at right back, but also enjoying a new part-time role as a defensive winger. Newcomer Dwight Tiendalli did enough as backup to earn a new contract, while youngster Ben Davies made sure Neil Taylor's early season injury didn't hurt the Swans defence nearly as much as many thought it might.

Rangel has always been an attacking threat on the right flank for the Swans. In recent seasons, his link-up play with right wing Nathan Dyer has been a key feature of the Swans attack. However, with Dyer frequently rotated out of the side this season, Rangel sometimes found himself slotted in directly in place of his team-mate.

Manager Michael Laudrup recognised that Rangel's attacking skills were sufficient for the full back to double-shift as a winger when required, typically playing in front of Tiendalli against opposition who posed a strong threat on the left wing (see: Everton). The move paid off, as Rangel chipped in with three goals this season compared with none last season, while the side held Everton to a credible away draw.

Standout stat: Rangel's 76 percent shooting accuracy, compared to 6 last season. Laudrup really honed Rangel's attacking play. Last season, the Spaniard took a total of 16 shots, only one on target, and didn't score. This season, Rangel put 16 shots on target (from 21 overall) with three goals. In addition to consistently solid defending, Rangel is now a legitimate attacking threat.

On the other side of the park, Davies seized his first-team opportunity after Taylor's early season injury, and, much like Taylor himself, developed from raw youngster to reliable starter in a single season. Davies even upped the ante by scoring what might be the best goal of the Swans season. In fact, so strong has Davies's season been that Laudrup will have a real selection dilemma come the new season.

Whereas attacking players can often be rotated to catalyse offensive production, a defence generally works best with consistent starters. With Rangel likely to reprise his role as winger next season when the occasion suits, it might suit the Swans defence to at have some positional consistency on the other flank. At least it's a nice dilemma to have, and what's to say Laudrup doesn't develop either Davies or Taylor as a defensive winger the way he's done with Rangel, allowing him to accommodate both players?

Standout stat: Davies' 92 total tackles. He led the team in attempted tackles, and places a respectable fifth for tackling success (73 percent, Leon Britton and Jonathan de Guzman lead with 87 each). He is also joint first with Dyer in ground duels won (143). For a slim, short, young defender, Davies' willingness to get stuck in is impressive.

While Rangel and Davies were Laudrup's preferred starters at full back this season, new signing Tiendalli also saw some action, and did well enough to earn a new contract. After some patchy early performances, Tiendalli found some consistency, and has managed to make himself a good fit for the Swans. He has similar attacking instincts to Rangel, and is aggressive in defence. Interestingly, he registered no defensive errors leading to a shot or goal this season; only Chico Flores can boast the same dependability.

Standout stat: Tiendalli's 23 minutes per tackle. He loves to tackle, and involves himself more frequently than any other Swansea player (Chico was next best with 26). Logic suggests he would also lead the entire team for tackles attempted if given more game time.

Perhaps the forgotten man among the Swans full-backs, Taylor began to come back into the side towards the end of the season. The left back suffered a triple ankle fracture in the Swans' third league game, and missed most of the season. Much was expected of him this campaign after he had the same kind of success last season as Davies has had this. It remains to be seen if his injury has set him back substantially, but he'll at least have the summer to catch up. The early evidence suggests he'll be back to his best soon enough.

Standout stat: Taylor's four games started, three before his injury. If not for that, it's safe to say Taylor would have enjoyed the lion's share of starts. The silver lining is the emergence of Davies, who otherwise might have remained an under-developed and unknown quantity on the bench. With Taylor healthy for next season, the Swans will have an excellent one-two punch at left back.

Next time I'll be looking at the Swans central midfielders.