Swansea season roundup: The goalkeepers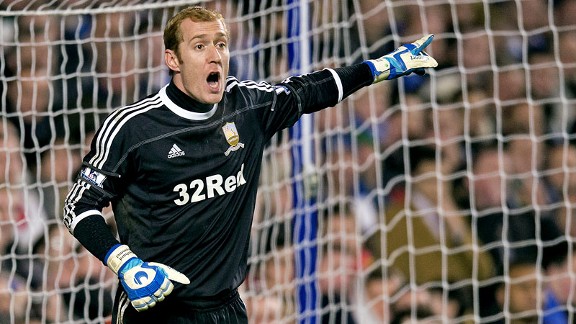 Adrian Dennis/AFP/Getty ImagesGerhard Tremmel was a more than able backup for Michel Vorm, helping the Swans win the League Cup.
Swansea City enjoyed a highly successful season, with Michael Laudrup's reshaped squad and intelligent tactics earning the club its first major silverware (League Cup) and highest Premier League finish (ninth place, 46 points). With the season over, I'll be taking a look at how the Swans players have fared over the season. My team-wide breakdown starts in goal.

Goalkeepers

It's been a season of ups and downs in the Swansea net; mostly ups for Gerhard Tremmel, mostly downs for Michel Vorm. Vorm, last season's outstanding player, has had a frustrating time.

It was Vorm who had to manage the team's mistakes while the new-look Swans defence settled in through an early-season losing streak. It was Vorm who suffered a fairly serious injury just as the rest of the side was finding its feet, and it was Vorm who suffered the most from the Swans post-League Cup slump. The Dutch stopper played no part in the Swans Cup run (backup Tremmel was handed Cup responsibilities), and cut a solitary figure through the late slump as the only Swans player with any obvious motivation left.

Rumours persist that Vorm might be poached by a bigger side. On the evidence of Tremmel's solid performances in relief, many Swans fans wouldn't blink if the side cashed in. However, Vorm has been inadvertently handed the thin end of the wedge all season long. He is still an elite keeper, and one the Swans would do well to hold on to a while longer yet.

Standout stat: 7 defensive errors (2 last season). On paper, Vorm made more than three times as many mistakes this season than last, but a closer look shows the majority of those errors were made during that early-losing streak, when the Swans' defence was frankly awful. Ash Williams and Chico Flores might make a formidable defensive duo now, but only after a rocky bedding-in period. Vorm was routinely left exposed by early defensive blunders, and has taken the rap for mistakes which were often not his fault.

Tremmel, meanwhile, has had arguably the best season of his career. The German stepped into Vorm's shoes (or gloves) following the Dutchman's injury, and proved more than a match for the Premier League. In fact, Tremmel bested all other Premier League goalkeepers for shot-stopping percentage, with a muscular 81 percent, albeit in only 12 starts (14 games total including substitute appearances).

As is common practice among Premier League sides, Laudrup made nominal backup Tremmel the Swans' Cup goalie, and the keeper rose to the challenge. He helped beat Bradford 5-0 in the final at Wembley, although with all due respect to Bradford, he probably could have stayed in the dressing room. Tremmel's real Cup triumph came in the earlier rounds, however, when he kept two clean sheets (home and away) against eventual Europa League champions Chelsea to see the Swans to the final.

In fact, Tremmel conceded just four goals throughout the entire League Cup run (seven games), and kept four clean sheets in a row from the quarter finals onward. Additionally, Tremmel was just as solid in league play, except perhaps for a poor performance against Norwich, in which the Canaries proved the only side to repeatedly exploit Tremmel's left-side weakness in a 4-3 defeat.

Standout stat : It has to be Tremmel's 81-percent shot stopping figure. For comparison, the starting goalkeepers from the Premier League's top three clubs - Manchester United's David De Gea (76 percent), Manchester City's Joe Hart (70) and Chelsea's Petr Cech (77) - all finished behind Tremmel, and Tremmel's figure doesn't even include the numbers from his fantastic Cup run.

Next time, I'll have a look at the Swans centre backs.