Swans set free for finale, but sign off with defeat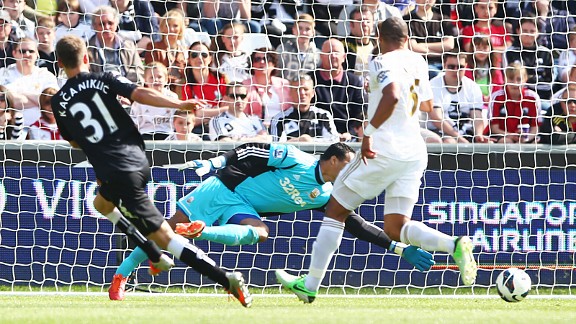 GettyImagesAlexander Kacaniklic puts Fulham into the lead away at Swansea
The 0-3 result against Fulham may have been disappointing, but it seemed clear from the off that Michael Laudrup had given his side considerable licence to go out and have fun against Fulham on Sunday afternoon.

The Swans attacked Fulham relentlessly, especially for the majority of the second half, but in so doing left themselves uncharacteristically open at the back. Fulham duly took advantage of the invitation, and hit the Swans on the counter.

The first two of Fulham's goals came as a result of defensive errors in playing the offside trap, whilst the third, scored in injury time, was mostly the result of a beaten Swansea side throwing in the towel for the day after getting no reward for a fine display of attacking football.

Of course, the result was not particularly important. West Bromwich Albion amazingly managed to find five goals against Manchester United to draw, which left the eighth spot open for the taking had the Swans won. Instead, Laudrup's side will finish ninth, with 46 points (actually a point less than last season), the League Cup in the trophy cabinet and a ticket to Europe for next season.

The Swans will not be disconcerted by Sunday's scoreline. Clearly, defence was never a priority, with as many as eight or nine white shirts in the Fulham half for long stretches of the second half. The flair on show was greatly entertaining at times, and similarly frustrating at others.

Fulham's game plan seemed to be to foul continuously (and without any significant reprisal from referee Lee Mason) for the first half, and pack men into their own third throughout the second. The plan worked. Swansea had too many near misses, crosses, through balls and half-chances to count, but none of them would produce a goal.

Naysayers might be quick to point out the deficiency in the Swansea squad of reliable scorers, but this is an obvious shortcoming and one which Laudrup has been working to rectify since January, if not since his arrival last summer. Targets have been identified and over the summer, once the transfer window is open again, offers will be made.

Laudrup took a small risk in selling Danny Graham without replacing him last winter, but the Swans final league position and cup win have vindicated the manager's opinion that his squad still had sufficient depth to compete, and that addressing the side's forward options was a task best left until the off season.

It was a pleasure to see Laudrup's laid back, philosophical attitude at play in the Swans last game of the season. He knows his team needs strengthening, but that can't happen right away. He knows Sunday's game meant next to nothing, and so let his players express themselves and entertain the fans. And he would have known that to do so would leave his side exposed at the back, so Fulham's goals and victory are no real cause for concern.

An interesting aside for trivia fans - in not being awarded a penalty on Sunday, Swansea became the first side since Charlton Athletic in the 2004-05 season to go a whole Premier League campaign without being given a spot-kick. It seems incredible the Swans didn't get one - despite significant penalty area action, and Fulham's dedication to sticking the boot in, there wasn't even a weak penalty appeal or borderline call all game. The way things went, Swansea might not have scored from the spot anyway.

With cagey games elsewhere determining the Champions League aspirations of Tottenham and Arsenal, the Swans ended what has arguably been their club's most successful ever season by reminding us that football can sometimes still be about entertainment and not results.

Final Thoughts :

Positives : Entertaining send-off after a great season. More attack in one game than all of last season combined. Pablo Hernandez.

Negatives : Unflattering result. The all-elusive goal.