Swans capitalize on Wigan mistakes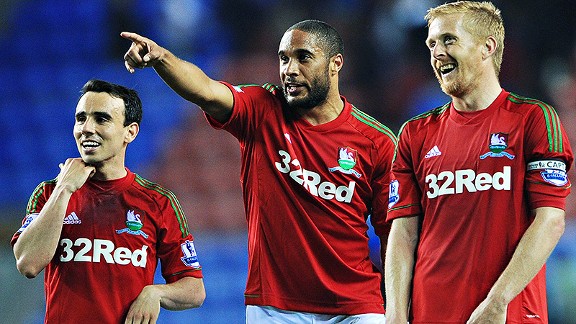 Michael Regan/Getty ImagesA strong second half featuring three goals gave Swansea plenty to celebrate in their win at Wigan.
As expected, Wigan's defensive weakness was their undoing as a strong second half from the Swans produced a 3-2 victory and an end to the team's seven game winless streak.

- Match report: Wigan 2-3 Swansea

Heading into the game, a couple of Michael Laudrup's team selections might have given pause for thought. On-loan striker Itay Shechter, who hadn't scored a goal all season, was preferred to the comparatively prolific Luke Moore in the absence of the injured Michu. Garry Monk once again beat Kyle Bartley as replacement for the ailing Chico Flores in defence and Angel Rangel started at wing with Dwight Tiendalli behind for extra protection on the right flank.

As it turned out, Shechter finally had his day, scoring the Swans' second goal, albeit from a wildly deflected shot. The Israeli international striker had done well to protect the ball from the Wigan defence before turning and shooting; for once he didn't fall over on first contact, and it resulted in his first goal. Coincidence? Hardly. It seems unlikely Shechter will return to Swansea next season, so his goal will hopefully be a positive token from his South Wales experience.

In defence, Monk has been favoured over Bartley so often I'm starting to wonder if he doesn't have some kind of mutual understanding with Laudrup -- that Monk will coach next season instead of playing only if he's allowed to be the de facto backup for the remainder of this. We might never know, but surely this was the kind of game that could have afforded Bartley some more experience?

Elsewhere, Laudrup's decision to start two fullbacks on the Swansea right to counter Wigan's threat on that flank looked like a misfire given the absence of Jean Beausejour from the Wigan line-up. However, makeshift left back Roger Espinoza more than filled the hole, capping a strong first half with a well-taken goal. Later, Laudrup's decision to start both Rangel and Tiendalli looked like genius -- Rangel opening the scoring and Tiendalli netting the game-winner.

The Swans' return to form -- particularly during the second half -- was a welcome sight, and timely too; Manchester United are next. Also of note was the Swans' set piece delivery -- for the first time in a long while, the Swans favoured the short corner almost all game long. Although the gambit didn't produce much in the way of scoring chances, it certainly didn't fare any worse than the conventional corner routine, which has looked woefully impotent of late.

Speaking of set pieces, it's hard not to talk about the indirect free kick in the penalty area. It's not often any side gets to take one of these, and as soon as it looked like Ash Williams was going to take it, I called it over the bar. The thinking is transparent -- get the person with the hardest shot to hammer it. However, shot power only becomes relevant over distance -- from eight yards, pretty much every player's shot is going to be hard enough. I'd have much preferred to see Jonathan De Guzman step up. Technique beats power in most situations and good technique can even generate power.

No matter; the Swans got the result, with unlikely goals from unlikely goal-scorers. Roberto Martinez meanwhile won't thank his former club, or his defence.

Final Thoughts:

Positives: Great second half effort. First goals for Shechter and Tiendalli. Rangel's striking finish.

Negatives: Vorm's headache.