Swansea have the defence Wigan lack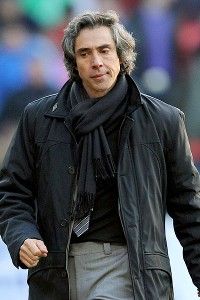 Michael Regan/Getty ImagesPaulo Sousa only spent one season at Swansea, but left a legacy that improved the Swans' defence.
Wigan's annual relegation escape act has an extra edge of poignancy this season. Swansea City can put a serious dent in Wigan's survival hopes with a win on Tuesday night at the DW Stadium, whilst playing the celebrated style of continental football that Wigan boss Roberto Martinez was so instrumental in developing during his time in South Wales.

-More Wigan injury problems

That Martinez has not really been able to further develop the style with Wigan, and has in fact been eclipsed by his successors at Swansea, is not so much a mystery as an insight into the true value of an unheralded chapter in Swansea City history.

Roberto Martinez is a flair coach, with a lot of sophisticated attacking ideas, but his defensive acumen has always been questionable. Swansea were a free-scoring side under Martinez, but it wasn't until the Swansea board installed Paulo Sousa as Martinez's replacement that the Swans truly learned the art of defence.

Sousa's single-year reign is more often than not glossed over -- or worse still omitted entirely -- in sweeping recaps of Swansea City's recent history. The Portuguese manager, among the best defensive midfielders of his generation in his years as a player, taught the Swans to defend.

It wasn't always pretty. Sousa's stifling 4-5-1 seemed to mitigate the Swans' chances of scoring as much as the opponents. Sousa's system demanded far too much from its lone striker -- unsurprisingly replicating the same weakness inherent to so many iterations of the Portuguese national side -- that it necessitated a world-class striker to compensate for the lack of attacking support from central midfield.

Portugal have not had such a player for decades, which explains their routine shortfall in international competition. Gorka Pintado wasn't the answer for Swansea, either.

Without Jason Scotland banging in goals every week as had been the case under Martinez, many Swans fans lost patience with Sousa and his unexciting emphasis on defence. However, the Swans still achieved a better league position than at any point under Martinez, finishing seventh and, somewhat typically, missing out on a playoff berth after failing to score in a 0-0 draw against Doncaster Rovers on the final day of the 2009-10 season. Along the way, the side conceded just 37 goals in 46 league games.

When Brendan Rodgers took over from Sousa for the following season, he had one task -- bring back the Martinez-era attacking football while retaining the Sousa-era defensive solidarity. Rodgers' possession football was (and still is) predicated on a good deal of own-half ball retention -- a style made easier with as well-drilled a defence as Swansea's was by the time of Sousa's departure.

The defensive lesson Paulo Sousa taught the Swans is one Roberto Martinez hadn't yet learned when Wigan came calling those years ago. If Martinez can pull off the great escape once again, he'll have to find a way to improve the league's fourth-worst defence over the summer or face the same old relegation fight next year.

Perhaps a motivated Wigan side can find enough firepower to beat the comparatively complacent Swans on Tuesday night and survive. If Swansea win against Wigan, it will likely be because a stout defence is the biggest difference between the sides, though you won't hear too many people praising Paulo Sousa for it.