Time for Laudrup to mix things up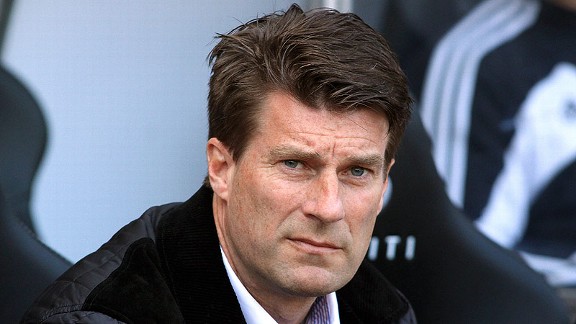 Geoff Caddick/AFP/Getty ImagesMichael Laudrup's insistence on playing starters is beginning to frustrate Swansea fans.
The title has already gone to Manchester United and Manchester City are more or less comfortable in second. Swansea have already enjoyed their season peak at Bradford's expense and might finish eighth or ninth or 10th. When the Swans meet City Saturday, there might not be much to play for save next season. But whether Michael Laudrup will risk rotating the squad against the Premier League's second best outfit remains to be seen.

I have my doubts. In a match of similar borderline meaninglessness against Chelsea last week, Laudrup eschewed the opportunity to mix things up, and instead played what was more or less his preferred starting XI. True to recent form, said starters failed to live up to already low expectations and strolled through the Sunday afternoon defeat like it was a dress rehearsal for a cricket match.

Swans fans might rightly start asking questions of Laudrup's selection policy of late. Granted, the opposition has been tough, and Saturday is surely no exception, but there must be still value in giving those lesser-tasked players a chance to impress. Clearly, the results don't seem to matter much. If a loss is more or less inevitable, why not throw a few backups in there, or even one or two kids?

Who knows? Maybe those players deemed less skilled or less useful by virtue of their lack of playing time might even give the Swans a better chance of a result than the overworked first team, who are mostly going through the motions. It would be nice to see something of note over the course of the Swans' remaining four games, beyond the ignominy of ending an otherwise highly successful season with a five game losing streak. The last Swans win was on the 2nd March (1-0 at home against Newcastle).

Meanwhile, Manchester City likely will rotate, as is the privilege of a side that could probably field three different starting XI's able to compete at this level. I wonder if Scott Sinclair will be given just his fourth start since joining City. Sinclair has sadly become another cautionary tale in the great tradition of ex-Swans who left on a high and fell off the map shortly thereafter.

The winger has had to suffer watching his now ex-girlfriend -- rumoured to have been instrumental in Sinclair's move away from Swansea in the first place -- being voted a male magazine's sexiest woman of the year, while his own future seems uncertain at best. Talk is he'll be leaving Manchester at season's end, and he might just save his career if he does. Sinclair could thrive at a decent mid-level Premier League side. An Everton, say. Or a West Brom. Or an Aston Villa.

Whatever the long-term future holds for Sinclair, I'm secretly hoping his short-term future does include a start at the Liberty. Perhaps not wanting to be shown up by a former Swan will be enough to motivate the current Swans into playing a decent game of football.