Listless Swans surrender at Stamford Bridge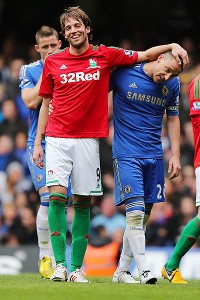 Ian Walton/Getty ImagesMichu shares a laugh with Chelsea's John Terry Sunday, when Swansea supporters didn't have much reason to smile.
Maybe it was West Brom's 3-0 win over Southampton on Saturday which sucked the spirit out of the Swansea dressing room on Sunday. Now faced with a six-point gap to close on their nearest rivals in the standings, the only answer Swansea could come up with against Chelsea was more of the same disinterested, lazy play in a 2-0 loss which has become a worrying hallmark of the side's performances of late.

Things had looked to be improving following decent games against Norwich and Southampton, but Swansea started slowly at Stamford Bridge and couldn't pick up the pace. An early injury to Chelsea midfielder Ramires saw Frank Lampard introduced in his place, with the Chelsea legend showing more enthusiasm than the entire Swansea City squad combined.

- Lythell: Lampard prompts Chelsea into third

Lampard's energy made all the difference in the first half. It was his ball which set up Oscar for Chelsea's first, and his converted penalty kick which put the London side up by two goals shortly before the break. Swansea could only manage a couple of quarter-chances throughout the first 45, with the Swans' attack perhaps looking slightly more invested than their mistake-prone defence and non-existent midfield.

Perhaps the Swans' first half was best summed up with the last action before the break. The ball fell kindly for Ki Sung-Yueng, who possesses a deadly but rarely seen long shot, but before the Korean could wind up, he slipped and the chance was lost.

After the interval, when you might have expected Michael Laudrup to verbally eviscerate his players, not much appeared to have changed for the first 10 minutes or so of the second. Approaching the hour mark, Swansea started to create chances, more as a consequence of Chelsea's own low tempo and comfortability in their two-goal lead than any great enthusiasm on the part of the Swans players.

However, the same sloppiness endemic to Swansea all game long saw their few promising attacks come to nothing. Jonathan De Guzman's choice to attempt a difficult back-heel instead of straight-forward shot after he had jumped onto a loose pass from Lampard was possibly the most notable of a series of frustrations.

Such was the apparent hopelessness of the Swans cause that even referee Mark Clattenburg appeared to take pity, choosing not to show Ash Williams a deserved second yellow card in the 72nd minute.

The way Williams was playing, he might have ill-appreciated Clattenburg's mercy and been rather more grateful for an excuse to get off the the field and draw a close to a frankly terrible performance. The Swans will probably be grateful their captain won't be suspended for Saturday's fixture against Manchester City.

On a day when two relegation-threatened teams saw fit to consign each other to the drop by settling for a flat draw, it should be no wonder that this game didn't offer much entertainment either, Chelsea coasting in neutral and the Swans embarrassing themselves with another lacklustre performance.

Final Thoughts:

Positives: The brief return of Neil Taylor.

Negatives : Everything else.